Ghosts And Gravestones: New Perception Gameplay Video
BOO!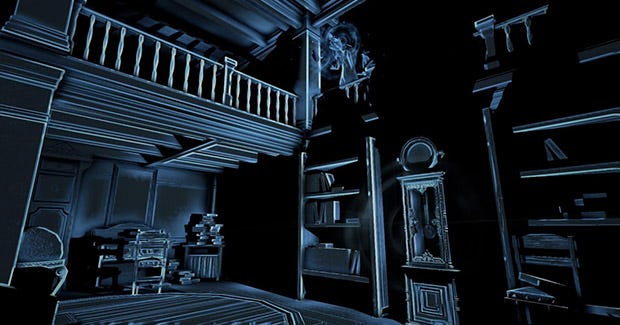 The Deep End Games have released a new video of their Kickstarter baby Perception, a survival horror game starring a blind girl who must navigate a haunted house using echolocation. The new gameplay trailer comes just a few days before the end of the Kickstarter, with 10% of the goal amount still to be obtained. In the video we get to see more ghostly goings on, plus an indication that hearing may not always be believing.
I've already mentioned how much I love the overall premise and aesthetic in this game, and this video continues to deliver on the atmosphere. The blind protagonist idea is something that's had a bit of a surge recently, with Beyond Eyes by Tiger & Squid and Blind by Tiny Bull Studios also in development [don't forget The Devil's Tuning Fork -ed]. While Beyond Eyes looks more fluffy than scary, Blind is a VR-exclusive horror game with a very similar premise to Perception. All are well worth a look.
Should The Deep End Games get hold of the full $150,000 in the next few days, they plan to release the game around this time next year. If you're interested in helping the developers hit their goal, pledging $20 (£13) will get you a copy of the game at launch. Check out the new video and see what you think.