Perception: Former Irrational Folks Crowdfunding Horror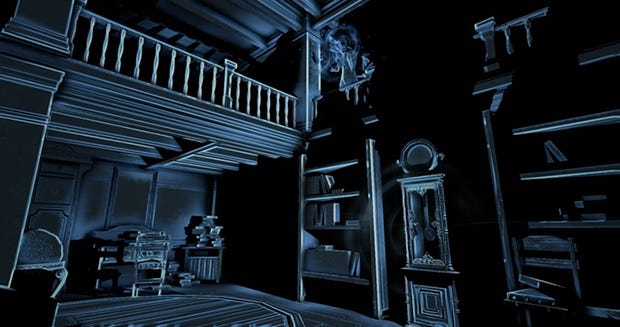 You'll play a blind girl called Cassie who must use echolocation to explore a haunted mansion in Perception, a first-person horror game just launched on Kickstarter by former Irrational members. It looks to be a refreshing take on the scary house trope, with noise 'illuminating' areas so that you can 'see'. Cassie's ability to detect her surroundings are not dissimilar to those of Marvel's Daredevil, except it's unlikely that she will be flipping out and beating people with sticks. Probably.
The Kickstarter video below does a great job of demonstrating the mechanic and you'll also get to see the game's gorgeous art style which manages a nice balance between "ohhh, spooky" and "oooh, pretty". The demo has familiar artistic flair, excellent voice acting and sound design that remind me of some of developers The Deep End Games' former works. They're mostly from BioShock creators Irrational Games, including BioShock lead level designer and Binfinite design director Bill Gardner, along with folks who've chipped in levels, art, and sound for the series. Nothing about this game doesn't already make me want to jump in and play.
The Deep End Games are looking for $150,000 (£97,000-ish) on Kickstarter to finish development. It's a relatively modest amount, but considering there are no famous faces attached it's not a sure thing. Pledging at least $20 (£13) would get you a copy of the finished game when/if it launches, which they expect will be in June 2016.