Petroglyph Announces Rise Of Immortals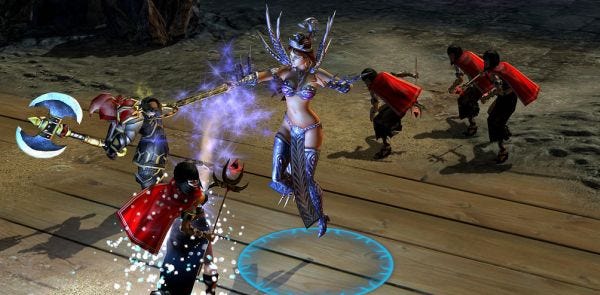 Petroglyph, they of End Of Nations and Guardians Of Graxia, have just this second announced their next game: Rise Of Immortals. The former Westwood-encrusted team say it will be a "multiplayer online battle arena", and at that oh-so familiar price of free to play. It too is set in their Graxia universe, but 300 years since Guardians ended. The announcement explains that the game will offer the strategy gaming of other MOBA titles, but with persistent character progression, and "enhanced socialization features". And it's already ready for closed beta sign-ups. Lots more details, along with all the screenshots and the first video, below.
Petroglyph explains,
"Instead of an account-based leveling system, players can advance their Immortals through a diverse, persistent skill tree, customizing and upgrading the characters to unlock unique abilities that persist from match to match."
And the sociality bits:
"Rise of Immortals features a social hub where players can show off their enhanced Immortals, chat, emote, browse leaderboards, shop, manage friend and guild lists and more. Players also have the option of taking their Immortals through cooperative Player versus Environment (PvE) scenarios to learn the game, try out new abilities, and earn persistent experience before jumping into Player versus Player (PvP) matches online."
You'll be wanting features, I imagine. They are:
· 12 unique Immortals at launch with additional Immortals released on a regular basis
· Persistent per-Immortal level progression and skill trees
· Persistent artifacts for stat enhancements
· Player versus Environment instances with collectable items
· Player versus Player instances with up to 5v5 multiplayer
· Persistent experience and leveling in both PvP and PvE instances
· Collectible pets for combat and vanity
· Account and Immortal statistics tracking
· Player hub instances for socialization
So if you want to get in on the ground floor, head to the game's site where you can register to take part in the closed beta. They plan to expand the numbers getting in over the next few weeks, with a release date as early as Spring 2011. Click on the below shots to see them full size.