The Behemoth's Pit People fall into early access Jan 13th
Looking hexy!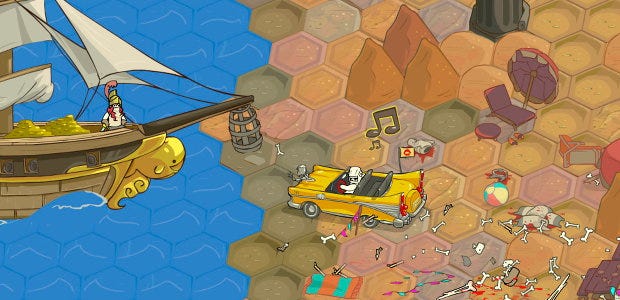 The Behemoth, the gang best known for cheery beat 'em up Castle Crashers, have announced that their new game Pit People [official site] will hit Steam Early Access on January 13th, 2017. Pit People is an adventure across a weird apocalyptic wasteland, recruiting troops, finding loot, and fighting in hexy turn-based tactical battles. And yes, as The Behemoth are angels for always supporting, it will have co-op. Why early access? They want to be sure Pit People is balanced and polished when it properly launches, and hope players can help with that.
Here's a blurb from The Behemoth:
"In our fast-paced, turn-based, co-op adventure you'll quest and explore, find awesome loot, customize your fighters, and recruit strange species. Rally your troops and steel your wits if you hope to survive a hostile world filled with sinister robots, deadly vampires and brutally adorable cupcake people!"
And this new trailer shows what that looks like in action:
They do make pretty games, don't they? Always nice and fun even as a battlefield becomes covered with blood and bones.
The Behemoth say that after holding beta tests and improving the game based on that feedback, "holding onto the game in its current state just feels weird." They say that "The core gameplay is complete and we'll be adding content until the full version is released." It'll start out with "a sizeable chunk" of the story mission and several world maps, playable in singleplayer or co-op, and the competitive Versus mode.