Planetary Annihilation Getting "DRM free offline play" Oct 9
Go offworld offline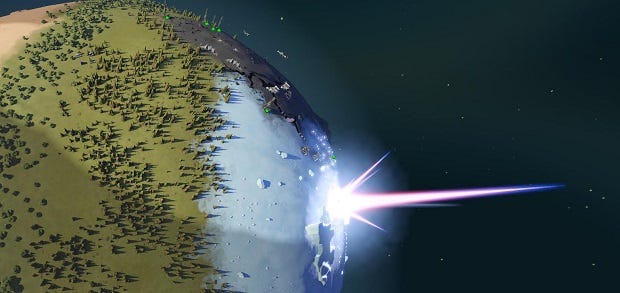 A lot of people are down on planet-slinging RTS Planetary Annihilation, criticising its recently out-of-Early-Access release for missing important features. One of those features was the ability to play offline, as currently even singleplayer matches against bots require you to have an internet connection. That's going to change on October 9th when offline play is added to the game, as announced on the Uber website.
The post explains:
We're happy to announce the release of the offline server. Coming in an update this Thursday (October 9), offline server allows you to take over the galaxy in Galactic War without connecting to the Internet. You can also battle against your frenemies or the AI over a LAN.
This news comes just a few days after developers Uber launched a Kickstarter campaign for a new strategy game, called Human Resources. At the same time, Uber re-assured Planetary Annihilation backers that support for that game would continue.
The addition of offline play is obviously well-timed, deliberately or not, both to counter some of the criticisms that have popped up in reviews this past month and to follow through on that promise. A lot of backers of the game had been disappointed with certain mooted features failing to appear before release, though when he reviewed it Brendan still saw something worthy in its vast and bombastic battles.
As for Human Resources, Adam spoke to the team, and there were signs that the game of warring apocalypses had learned a lot from Planetary Annihilation, both in terms of its design (flat surfaces are easier for players to navigate than globes) and in terms of how much money you need to get a game across the finish line in a good state (more than last time).