Planetside 2's Fire In The Sky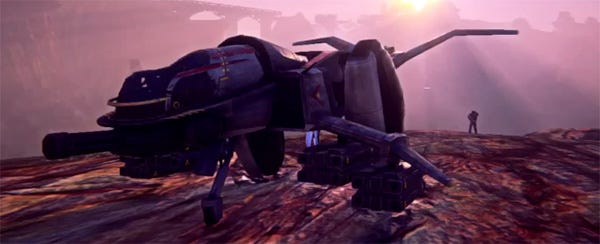 If there's any justice in this dark, terrible world, PlanetSide 2 will be the last action videogame we ever need. If it can do what the first game did, fix the problems and escalate it to new places... then ooh. Ooh. I do fear what the post-COD ubiquity of ranking systems and unlocks might do to it, mind. This peek at 'massive air combat' certainly allays worries it'll be a small-scale territory war at least, and demonstrates that PS2 intends to use the skies far more than its proud predecessor did.

Edit - okay, okay, this went up here recently. Sorry, I thought the last one was about soundtracks, because I am very stupid.
Watch on YouTube
Needs more lush vegetation, but otherwise I am very happy with that. Until I realise that I'll never be capable of flying on those things, so will likely spend the game being bombed to hell by pro-pilots as was by and large my Battlefield 2 experience. Still, scale and spectacle make a digi-war alright.