Plants Vs. Zombies Garden Warfare 2 Coming Feb 2016
Pelting fruit at zombies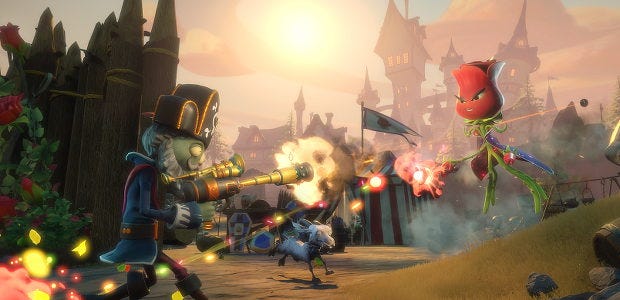 Multiplayer shooter Plants vs. Zombies Garden Warfare 2 [official site] is not the game I'd want next from PopCap's (former?) tower defense series, but a fair few folks popped up in the comments to say they dug Garden Warfare when John griped about the shift. So hey! For folks who want more, or those who fancy pelting zombies with fruit, here's news: Garden Warfare 2 will launch in Europe on February 25th, Electronic Arts have announced (two days after its US release, because that ocean really slows downloads you know).
This release date reveal comes from a new trailer showing off... its zombified take on Mass Effect?
Garden Warfare 2 was announced with a release window of spring, which begins on March 20 next year, so it's actually been bumped forwards at least a month.
If you've missed Garden Warfare, you may be lost now, so I'll explain. It's a team-based third-person shooter with plants and zombies from PopCap's tower defense games throwing down. It's class-based, with e.g. zombie Imps being zippy little scamps, and the Rose a support class with teleporters and shields. It does have a spot of co-op too.
Garden Warfare 2 will cost - crumbs! - £50. That's £10 more than, say, Cod Blops 3, Fallout 4, or most other big games from AAA publishers. Hmm. There's always FRuiTDooM. (And yes, GW2 will require Origin, yes, I know you have strong feelings about that.)
Anyway, here's a trailer with some actual gameplay: