PlatinumGames planning to self-publish a new game of their own
RULES OF NATURE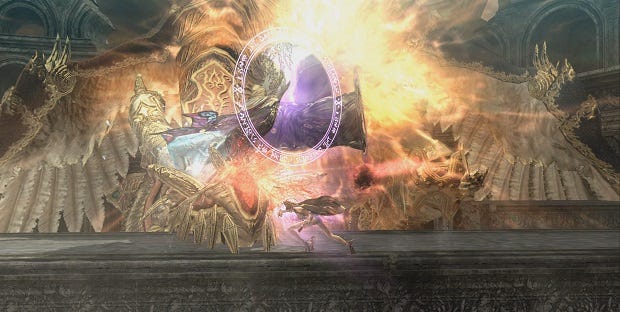 PlatinumGames, the makers of such wonderful games as Bayonetta and Nier: Automata, are looking into making and self-publishing games of their own. While they're not announcing any specific games just yet, Platinum say they invited all staff to pitch ideas and have whittled 70-odd submitted design documents down to two ideas they're focusing on. Yes, their own games are likely to offer the action you'd expect from Platinum, though obviously made on smaller budgets without the backing of big publishers. They're not done with making games for publishers, mind, so we should see still more big-budget explore-o-ramas from them too.
In an interview published over Christmas, Platinum's head of development, Atsushi Inaba, told Game Informer "we're becoming more and more interested in the idea of self-publishing and doing our own title." He continued:
"Over the last year we've pretty much opened the company up to 'Anybody can pitch a game,' and so over the last year we've gotten about 70 design documents from different people. And if you're going list out the other random ideas, the scratched stuff on paper, that's a hell of a lot more. So this year has been about us basically diluting which stuff we wanted to focus on and not focus on, and drilling down to the point where we now have two designs that we're genuinely focused on."
He explained that they're looking at making a game with a team of about twenty people, fewer and on a smaller budget than they're used to. But he says they'll make the sort of game you'd expect from Platinum, not "say, doing a princess-clothing-making game or something like that." Well, they did actually consider a game like that.
"You know, as we got down to the selection process, there was actually a game that was kind of in that direction," Inaba said, "but when we made the final round picks, it was just like, yeah, this one's not going do it."
If they ever want to pick that idea back up, I'll be waiting.
Platinum have made some cracking games since they formed from the wreckage of Capcom's Clover Studio in 2009. Bayonetta and Metal Gear Rising: Revengeance are probably my favourite hack 'n' slash games, Vanquish's cover shooter dressing conceals intense and zippy action, and their collaboration on Nier: Automata was one of our favourite games of 2017 (hell, so was Bayonetta now it's finally out on PC). These have all been made with publishers like Sega and Square Enix, and often within existing fictional worlds created by other people, but I'm certainly excited to see what Platinum can do with a game that's fully their own.