Playerunknown's Battegrounds reveals desert map's name and town details
Welcome to Miramar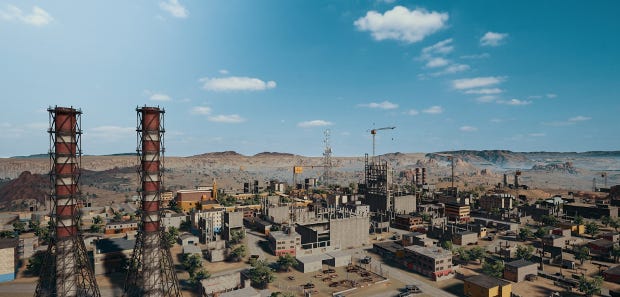 After months of teases and screenshots, the curtain has finally been pulled back on Playerunknown's Battlegrounds' desert map, which will be joining the island when Plunkbat leaves early access. It will be in the 1.0 test servers before that, however. It's got a name now, too! I mean, we're all going to keep calling it the desert map, probably, but its proper name is Miramar, which means "sea-view". Lovely!
PUBG Corp is still holding back a wee bit -- after all, discovering the ins and outs of the maps for yourself makes exploring them arguably more rewarding -- but we've now got more screenshots to gawk at and some details about the settlements and landmarks. You can check out the descriptions of all the revealed landmarks here, but I've also picked out a few highlights below. For starters, here's the map with its final names now in place - click to make it bigger:
Los Leones is Miramar's largest city and sports a mix of construction sites that dominate the skyline, a flashy city centre and lots of places to hole up and do a spot of sniping. I usually stay out of cities, but I've been looking to up my sniping game, and Los Leones sounds like just the place to do it.
Far to the north west of Los Leones lies El Pozo, which looks like the second-largest settlement on the map. It used to be popular because of its industrial and entertainment districts, and I suppose it could be again, what with players able to duke it out in the luchador arena or ride around on their motorbikes in the death bowl. A bit of silliness in this otherwise pretty straight-faced game is very welcome.
Valle del Mar is situated in the south east and connects the mainland to the small island below it. The town straddles the river, with a bridge connecting the north and south, and multiple roads leading to it. Clearly this is going to be ambush central. I've been meaning to take advantage of bridges more, instead of keeping away from them, so I'll undoubtedly be heading down there the first chance I get.
There are casinos, factories, rail yards and mountains, too, and just so many places that look like the perfect spot to be killed. I am looking forward to many, many deaths as I try to get the lay of the land. PUBG Corp warns that old strategies might not work in Miramar, but the joke's on them: I don't have any strategies.
Miramar isn't quite ready yet, but we'll finally be able to explore the desert when it's added to the 1.0 test servers. Given the impending launch, that should be very soon. In the meantime, soak up the sights with these new screenshots.