Playerunknown's Battlegrounds new event is 10v10v10 deathmatch, new map back in testing next week
War were declared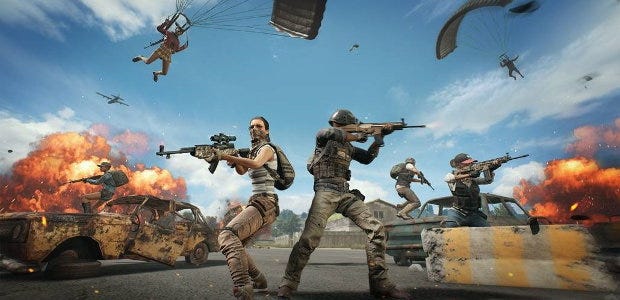 Grab nine of your closest murderpals because the latest Playerunknown's Battlegrounds event mode is going big. War, as it's named, is a 10v10v10 team deathmatch mode going down in static small circles. Players rain down from the skies already equipped with random gear, then battle to be the first team to hit the frag limit. And yup, this mode does have respawning. War may be good for absolutely nothing, but War mode looks a lark.
In other news, the new small map, Codename: Savage, is returning to closed testing next week. More beta keys will be available from Saturday.
So, War! It's 10v10v10. The circle is fixed to 350 metres wide over a random area of the map (looks like it's always a city, town, or notable installation), never moving or shrinking. Drop down with a random rifle and pistol, one grenade, and level-1 helmet and vest. Find loot and claim airdrop crates to get fancier items. Then shoot people to bits. The scoring is 3 points for a kill, 1 point for a knockdown, 1 for a revive, and -5 for taking down a teamie. First team to 200 wins, or whoever has the highest when the 15-minute timer expires. And when you die, you respawn in waves.
Unlike the earlier event mode with eight-player squads, which rolled two four-player squads into one at random, this will let you pick all nine of your squadmates. Matchmaking can fill in any gaps.
If this sounds familiar, that might be because War appeared in the Custom Matches options last week. But only a few players can host Custom Matches, they're fiddly to get into, and they don't have matchmaking, so that's not as good as having War as a proper event mode.
War started at 3am today and will end at 3am on Monday the 16th (which, in the Pacific time zone, is 7pm on Sunday the 15th).
As for Savage, the upcoming 4x4km map will return to the Closed Experimental Server from 2am on Tuesday the 17th (6pm Pacific on the 16th) to 2am on Thursday the 19th (6pm Pacific on the 18th). The closed beta signup site will start handing out keys again at 2pm on Saturday the 14th, until 2pm on the Tuesday. If you got a beta key from the previous test, that's good for this too.
Keys ran out quickly last time and you will need to download a whole separate client to play Savage, so probably best to aim to grab a key on Saturday and start downloading in advance (presumably there will be a patch to download ahead of this beta too).
I didn't have time to play in the last Savage beta but heard some good things. The map's obviously unfinished, with chunks still at the greybox stage, but its pace of play has made some players (both known and unknown) quite happy. If you did have time, do tell: what's it like?