Portal 2 DLC #1 Is FreeFreeFree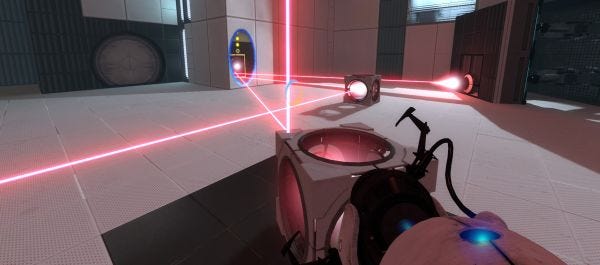 Well, this perhaps goes some way towards making up for the whole over-priced robot hats thingy. Official word has just arrived in our inbox from Valve that the first full-on DLC for the lovely Portal 2 will be free (on all platforms), and promises "new test chambers for players, leaderboards, challenge mode for single and multiplayer modes, and more." That news again: free. The list of planned content also suggests there'll be something a little more challenging than in the main game (the arguable ease and signposting of which we had a slight but affectionate moan about in our verdict yesterday), and a chance to really push Portal 2's crazy physics as far as they'll go.
A smart move in terms of goodwill generation, I suspect, and hopefully it'll be top-notch content too. No exact release date yet, but it's "this Summer". Doesn't Summer start on Monday? Maybe it will be Monday! (It won't be Monday).