Powering Up: Dragon Ball Xenoverse Coming To PC
I'm Spider-Man's best mate, me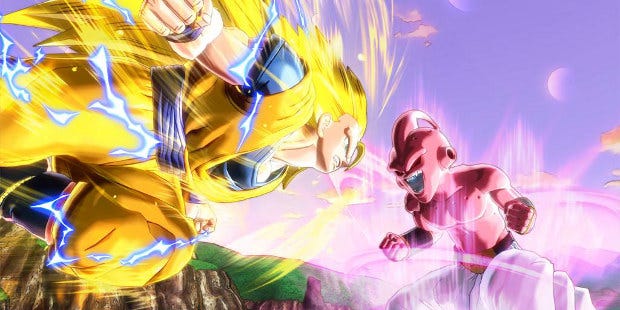 Dragon Ball, as I understand it, is about about toddlers getting so worked up they spontaneously age 14 years and skip straight to that teenage phase of growing their hair out and getting into fights that are mostly posing and yelling. This may not be wholly accurate. I mostly know it from years of seeing PlanetQuake plastered with Dragon Ball mods, Dragon Ball player models, and Dragon Ball usernames. But because of that, I always expect to see the anime and manga's video games on PC.
Hey, look: Dragon Ball Xenoverse will come to PC. You'll get to create your own angry teenager.
It's a fighting game of gratuitous self-insertion, having players create and customise their own fighter then joining in big fights from the series history (because time travel etc.). I'm surprised more licensed games don't take a similar approach. Their new stories are rarely (with exceptions) as interesting as the source material, so why not go wild with Mary Sues? I'm Spider-Man's best mate, me.
Xenoverse is being made by Dimps, the folks Wikipedia tells me are behind the Dragon Ball Z: Budokai games. Publishers Bandai Namco don't have much to say about the PC port, other than that there will be one and it's coming to Steam. But here's some of the yelling and fighting and: