Pre-Order King Arthur II And Get A Prologue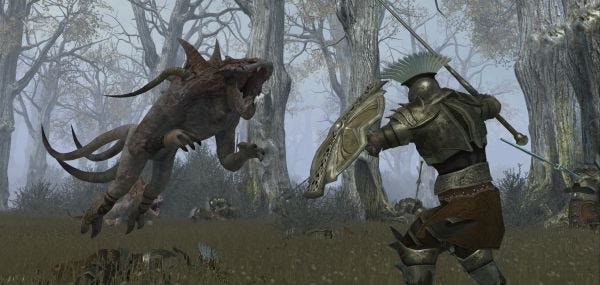 Edit: I have been STRONGLY told off by Paradox, involving a firm slap to the back of my knees, informing me that Dead Legions is about 10 hours of game, and that there will be a demo out closer to release.
Original: You can now pre-order Paradox's King Arthur II, which I understand is a likely action by rather a lot of our readers. And good work if you do, because not only will you be able to sit back, safe in the knowledge that you've saved valuable seconds on the day of release, but you'll also get a chapter of the game to play upon this very day. Which is why I mention it.
The chapter is called Dead Legions, and acts as the prologue for the game. This is how Paradox describes it:
"King Arthur II: Dead Legions is a tale of revival, resurrection and revenge; the chronicle of how the greatest adversary of King Arthur came into power – and the terrible price he had to pay..
The fate of the Romans lies in the hands of a noble man Septimus Sulla while the Once and Future King lies wounded in the south. The time has come to unearth the secrets of Hadrian's Wall while venturing into the mists of the underworld to find the fabled ghost legions of Rome.

Are you prepared to lift your blades and join Septimus Sulla on his road to glory and darkness? The fate of Britannia rests on your shoulders - pre-order King Arthur II - The Role-playing Wargame now - and witness the rise of the most frightening emperor to ever walk the lands."
I'm really not entirely convinced by this idea of giving what is essentially a demo only to those who buy the game before they can even play it. That seems a little counter-intuitive to me. Isn't the point of a demo to entice those who aren't sure if they're going to buy, rather than those that already have? Well, the whole game is out this month, and here's a trailer for the prologue: