Prepare To Die Harder: Dark Souls II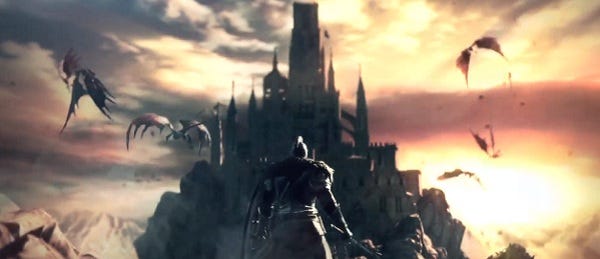 When a franchise is resurrected years after its previous instalment, it's only natural to worry that there may be unnecessary changes to a once successful formula. Changes often make me sad, staring at the flickering screen like a melancholy ghost who realises that he no longer belongs in the world. The very term 'reboot' sometimes makes me head for the nearest tunnel of light, my only 'goodbye' a sigh and a shrug. Dark Souls 2 isn't a reboot though and not enough time has lapsed for a paradigm shift to have taken place that means there must be regenerating health and Facebook integration. The new trailer shows some environments and they look suitably dingy and suited to vertical exploration.
That wasn't too alarming, was it? Castles, ruins, campfires and tunnels are all well and good, so perhaps it's the fact that Hidetaka Miyazaki has stepped down as director that is causing me to worry ever so slightly, or maybe the first two Souls games are such a hard act to follow that it's natural to feel trepidation.
This will be the first to have a dedicated PC release and it's out sometime next year.