Priceless Play - 16th November 2018
Movies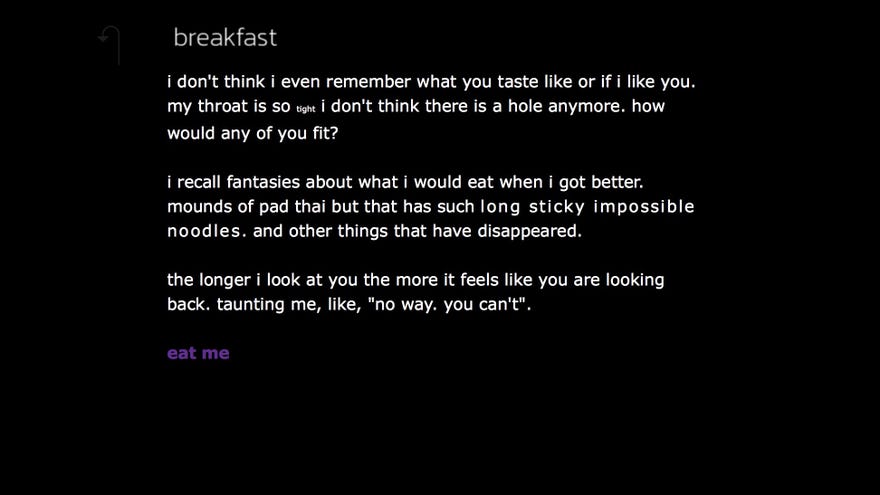 Some games, not all games (but some) have a degree of representational movement in them. A couple of years ago I went to see a panel discussion of designers at the Southbank Centre (a dream lineup: Naomi Alderman, Cara Ellison, Emily Short, and Meg Jayanth; moderated by Simon Parkin) and one of the designers mentioned the way players automatically notice the effects of their own interactivity through movement. "Players immediately say something like, 'Oh, that's me,' once they're able to move something on screen." she said. I've been thinking about it ever since.
Controllers, mice and keyboards, buttons, joysticks -- they're typically there to mediate movement within an interface. Sometimes there's a degree of free agency there,but sometimes there are more constraints than we'd like. Sometimes the physics respond in ways we don't expect, or the representations we control give us pause.
Consider this the first of a two-part series on movement. There are the ways characters or representations move and convey embodiment, and then there are the spaces through which those representations move. What is it like to have/control/inhabit a body? What is it like to interact, or to interface, with a gamespace? See if any of these games move you.
Look. I'm reading a lot of Foucault right now, so just stick with me on this one: Foucault tells us never to look for origins, because "origins" are all made up, but QWOP is An Original. QWOP was one of the first games I ever played which was hard for reasons other than "crushing combat" or "inscrutable systems and UI." It was hard because ragdoll bodies are unwieldy and cumbersome.
In QWOP you are the runner QWOP, "our nation's sole representative at the Olympic Games." You use the keys Q, W, O and P to move your legs (helpfully separated into THIGHS and CALVES), and you will very likely fail to run even 100 metres. I feel like a lot has been said about QWOP over the ten years it has been out, but it's still a triumph. Oh, and Happy Birthday, QWOP!
How many small things do you think you touch in one day? Touch Melbourne, from (where else?) Melbourne-based developers Andrew Gleeson and Cecile Richard, allows you to explore the city "through its various, tiny everyday interactions." The game successfully captures what it's like to travel spaces in a city with your hands from texting to tapping your metro card. It's sweet, beautifully designed, and worth your time.
Robert Yang has been making games about embodiment, gay culture, and intimacy for a while now. In The Tearoom, you play as a gay man in Ohio, 1962 soliciting sex in a public bathroom. Yang was inspired by true events in Mansfield, Ohio where the police department "set up a hidden surveillance camera behind a two-way mirror and secretly filmed dudes having sex with dudes in a public bathroom." The police then used that footage as evidence to imprison them.
There are plenty of Yang's games which convey embodiment. Hurt Me Plenty, for example, is a spanking simulator. Rinse and Repeat is about giving men soapy massages in a gym shower. What strikes me about The Tearoom in particular is mentioned in Yang's write up of the game on his blog. Yang says, "decades of male heterosexual hegemony have trained gamers into thinking of 'looking' as a 'free' action, with few consequences or results." What does it mean to look in games? What "free actions" have been taken for granted?
Emily Flynn-Jones is an academic out of York University, Toronto by way of Wales. She's written a couple of books, founded and worked on some extremely cool projects, and still manages to make games in her spare time about feminism, grief and loss, and disability. Suffice to say that they run the emotional gamut.
Flynn-Jones announced Swallow at this year's QGCon during a particularly moving talk about games and disability with kara Stone. The Twine game is a raw and visceral look into what it is like to have a disordered relationship with food and alcohol. Suddenly rendered unable to comfortably swallow food, Flynn-Jones recounts her years with illnesses which affect her body through text. I am reminded of Nina Freeman's Mangia, and both games do an accomplished job of discussing a fraught relationship with the act of eating.
It's like QWOP, but for kissin'.