Three cars and the truth: a belated Project Cars 2 demo
Demo, man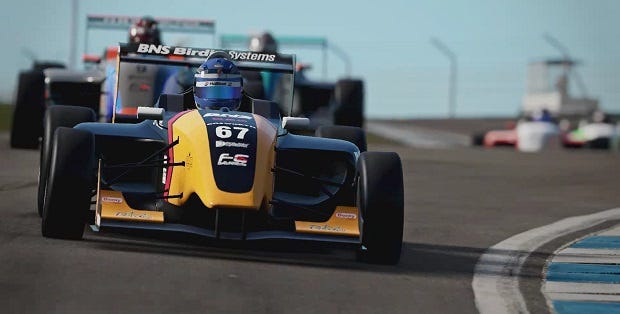 My 2018 prediction: the demo is coming back, baby, back. With so many games to choose from, and so many big names that haven't chart-topped with the expected ease, The Man will pursue new ways of making people crave his output. By new ways, I mean old ways. Free, limited demonstration editions of videogames: they are the future.
Earlier this week, Bethesda offered a belated Wolfenstein 2 trial, and now Project CARS 2 has also embraced the promotional techniques of yesteryear. There's now a three car/one track demo available for the hyper-realistic, ultro-graphics racer.

The cars on offer in the 3.4GB demo are the Ferrari 488 GT3, Lamborghini Huracán LP610-4, and Formula Renault 3.5, all of which get to go vroom-vroom in the laser-scanned recreation of the Red Bull Ring. The demo also supports cybergogs, if you have a pair sitting around, although the Extremely Shiny car graphics are more likely to benefit from a very big and high resolution monitor.
In our Project CARS 2 review, RPS' all-time greatest-named contributor Stirling Matheson found Slight Mad's sequel to be impressively slick but with a few flies in the glossy ointment. A demo is a mighty fine way of establishing just how much said flies will bother you, I reckon.
You can grab the demo from Steam, while the game itself is currently discounted by 40%, making it $36/£27/€36, or $54/£42/€54 for the deluxe edition.