Project Eagle is a Homeworld-tinged model of NASA's dream Martian base
The eagle has landed, and immediately launched again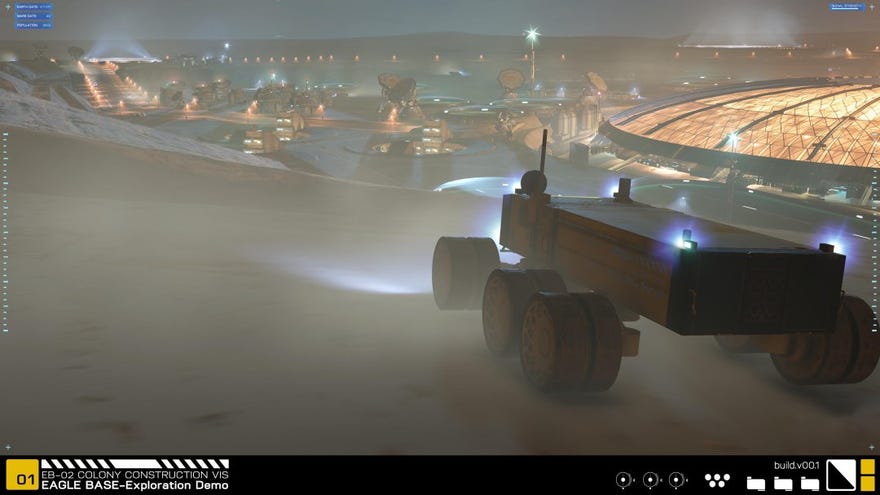 This is more game-adjacent than anything, but interesting and timely considering today's successful Martian landing. Project Eagle is a free semi-interactive 3D model of a potential Martian colony, as envisioned by NASA's Jet Propulsion Laboratory and assembled by Blackbird Interactive, developers of excellent RTS prequel Homeworld: Deserts of Kharak. Despite its serious, speculative science angle, it's easy to draw parallels between this industrial vision of a dusty desert planet and Kharak - NASA picked the right people. Grab it free on Steam here and try it yourself.
Blackbird aren't joking when they say that Project Eagle isn't a game. Your interactions are limited to camera movement, switching to a sensor mode containing some technical details on the various structures you see, and ending the tour by launching your shuttle back home to Earth. Oh, and there's a bonus achievement for finding ten tiny little astronauts around the colony, Where's Wally style. It feels very Homeworld, too, with familiar radio distortion effects intensifying as you move the camera away from the structures. The sensor view is near-identical to Kharak as well.
The Project Eagle model has a full day/night cycle, and the base bustles with activity at the edges, where construction is underway. Tracked industrial vehicles roll across the surface, and even the smallest of buildings has a little bit of text in the sensor view to fill in NASA's vision for the base. A clever re-purposing of games technology. Considering the state of the world now, it's been difficult to imagine people getting along enough to start launching manned missions to Mars. Between today's probe landing and this, NASA have me hoping for humanity's future a little more.
You can grab Project Eagle free here on Steam. If you haven't got it already, the excellent Homeworld: Deserts of Kharak is still 75% discounted on GOG, bringing it down to £7.50/$12.50, although that sale should be ending soon.