Retro FPS Project Warlock makes its debut on October 18th
Complete with obligatory 90s one-liners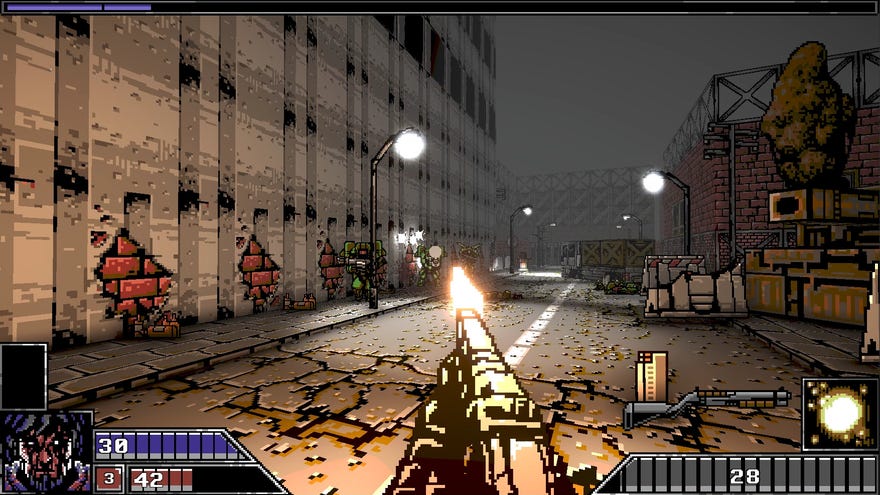 Old-school first-person shooters will always be my jam, and Project Warlock has already got my foot tapping. It's a retro FPS by Buckshot Software with chunky Wolfenstein-inspired blocky maps, but more modern-styled combat, and due to make its debut (as a timed GOG exclusive) this Thursday, October 18th. While it's hard to get a feel for the game without playing around with its weapons and grungy pixellated monsters, the launch trailer below definitely looks and sounds the part.
What Project Warlock may lack in fine map detailing - it's mostly just big chunky blocks - it claims to make up for in weaponry. A total of 38 weapons (which admittedly does include upgraded versions of several base guns), plus eight spells, which are basically guns but magic. A lot of ways to shoot, and a lot of things to shoot with them. It's split into five Shareware-episode style worlds, each with their own set of enemies. From what I've seen in trailers and clips so far, the guns sound satisfying and enemies blow up nicely which is a good foundation for the genre.
While the central aesthetic of the game is obviously low-fi (with a colour palette that oddly reminds me of later C64 or earlier Amiga games), there's fancy modern lighting illuminating it all. While some retro purists might object to the blend of modern shader effects and pixels the size of your fist, it's an aesthetic I'm fond of. So long as the particles, shadows and other modern effects don't get in the way of seeing what you're shooting at (or being shot at by), I'm all for a little excess.
The odd neo-Wolfensteinian look of the game reminds me a bit of Locomalito's 8-Bit Killer (which is over a decade old now), which aimed to capture the feel of Contra or similar NES games in chunky FPS format. While Project Warlock obviously looks more complex and seems to introduce vertical aiming to the mix, it's a formula I'm happy to be experimented with. Much as I love Doom, I started out with The Catacomb Abyss - a game which, coincidentally, just recently got remade in the Doom engine - worth a shot while you're waiting for Thursday.
Project Warlock launches on October 18th (this Thursday) and will be exclusive to GOG at first.