Punching A Shark! Depth Hunter 2 Debuts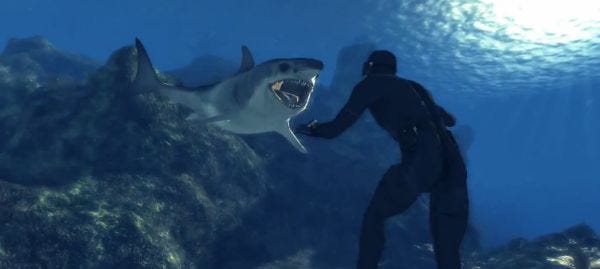 Here's what it takes to get featured on Rock, Paper, Shotgun: 1) Have a really interesting looking game. 2) Give us a huge amount of money in unmarked cash. 3) Feature a man punching a shark in your trailer. Depth Hunter 2 went for what is unquestionably the most effective route.
Craig took a look at the demo for the first Depth Hunter, and found it to be a surprisingly charming thing. Slow-paced, as things should be underwater, he speared innocent fishies (albeit not very well), and more enjoyed the serenity of nature's swimming pool. However, there's little serene when Pippin "Shark Puncher" Ferraras is around!
SHARK BIFF!
Pippin Ferraras is an official dude. But I won't rest until he learns to leave sharks alone. If they were wandering into his living room and punching him in the face, then fair enough. But until I see videoed evidence, I refuse to believe they are.
The game is due out some time next year, and this time is apparently based on a TV show called Hunting The Abyss, which I'm sad to say I've not seen. However, I do want to venture that if you can free dive to hunt there, it's not an abyss. So there.