Horror puzzle platformer Inmost makes Game Boy graphics gloriously ghoulish
Jumping at (and from) shadows.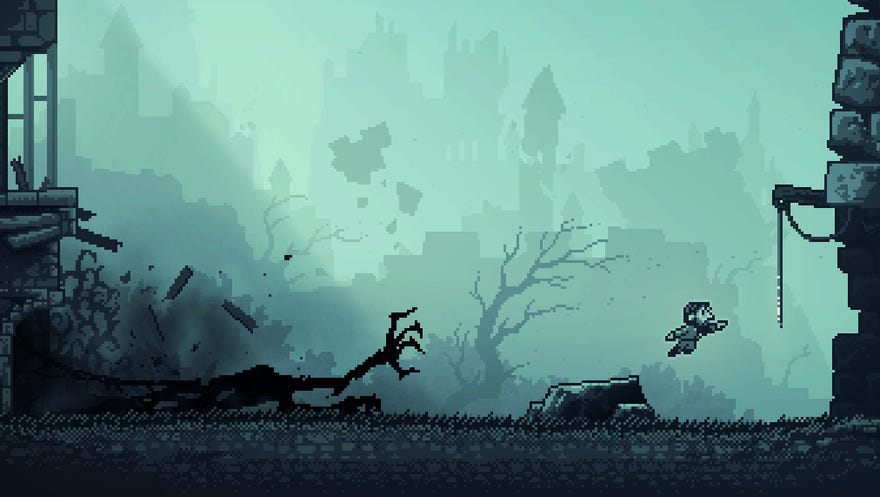 Anyone grumbling about lower-resolution pixel art being played out needs to hush and look at Inmost. Announced today and to be published by Chucklefish, it's a horror-themed puzzle platformer with a very striking visual style. While its character sprites are small and starkly outlined, similar to what you'd see on the original Game Boy, the mostly-monochrome world they inhabit is anything but. Beautifully detailed architecture, towering monsters and some delicious lighting and particle effects abound. Check it out in motion in the debut trailer below.
Inmost is the intertwined story of three playable characters across two worlds. There's an ordinary man, who appears to spend most of his time running from powerful shadow-beasts tearing the world apart around him. The knight ("sworn to the forces of darkness", say devs Hidden Layer Games) looks to take a more direct approach, with melee combat and a very snappy grappling hook allowing him to traverse horizontal and vertical gaps near-instantly. As for who the third is, there's a fair few candidates shown in the trailer.
While the shadowy nature of the monsters reminds me a little of Limbo, the touchstone I keep coming back to looking at the trailer above is Another World. While hopefully Inmost won't be quite as eager to crush the player's body and soul, it does look to have a bit of that same tension, where a situation can turn sour without warning, forcing a mad scramble to safety. While deeply stylish, the fragmented trailer doesn't give us much of an idea as to the true nature of Inmost's world or story, but I'm betting the little girl with the plush bunny is going to be at the heart of it all.
Inmost won't be launching until sometime in 2019, unfortunately. Until then, you can gaze longingly at its official site and its gallery of animated GIFs.