Frags For The Memories: Quake Is Twenty Today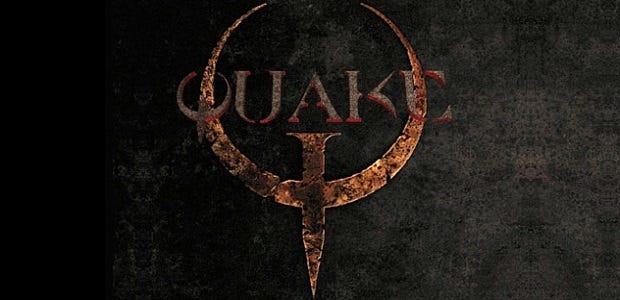 Twenty years ago today, id Software released Quake. Following a multiplayer test that gave the world a first glimpse of the studio's new, cutting edge 3d engine, the full game arrived on June 22, 1996. Its bizarre mash-up of medieval architecture and crunchy, industrial weaponry didn't run through the sequels, which have focused on both singleplayer and multiplayer combat, and there hasn't been anything else quite like it in the two decades since release.
Arena-based Quake is set for a revival with the recently announced Quake Champions, but here, we remember the original. Happy twentieth, Quake.
Alice: I'd declare that Quake Made Me if: 1) we were still doing that; and 2) Pip hadn't given me an informative talk on where babies come from. But Quake is certainly the game which made me love PC gaming specifically.
After months of playing the singleplayer (I couldn't afford many games), I discovered mods. I played the campaign over and over with wacky megaguns and dog buddies and grappling hooks and character classes and portal guns and goodness knows what else. I didn't have the Internet yet but still poked around multiplayer mods from hoverboard racing to Team Fortress, wondering what they'd be like with other people. Then I took my first steps into multiplayer with Reaper bots. Quake kept growing and growing as I plundered PC Gamer cover discs (which is probably where my readme file interest comes from).
Then I discovered I could make my own mods. I sloppily edited skins in a shareware version of PaintShop Pro 5, made leak-ridden and game-crushing levels in Worldcraft, and even tried hacking together mods by copy and pasting QuakeC code from different mods as I couldn't write a lick myself. Most of it didn't work at all, what did work was rubbish, and I adored it. PC gaming was the one for me.
John: It took me a while to realise that I enjoyed Quake. I had been such a big fan of Doom, playing it through to that awful bunny-head-on-a-spike final graphic so very many times, and then along came the thing that was supposed to be better than it. But it was different from it. And one hell of a lot gloomier.
And then, as I played, I realised how much I enjoyed it. How familiar it was becoming. Going back to it now, as writing this offers the perfect excuse, there's a mix of nostalgia and surprise. Gosh, those sound effects are all so very familiar. But cripes, had we really not fully implemented mouse-look by that point?! Especially daft, since the game did let you look around by holding down a button, although I think even I was struggling to make the transition from all keyboard controls at that point.
You know, I don't think it holds up as well as Doom. The graphics fell into an awkward middle spot, between Doom's iconic 2.5D chunky pixels, and the mind-bending smoothness of Quake II. Playing it now, it's a rather messy blur, a brown/grey smudge of a game. But heck, the whole of it, each of those huge, superbly designed levels, all fits into 55MB. That's madness. And what levels they were/are, running with Dark Forces' bold use of multiple levels and making it feel far more instinctive. And yet they feel less like returning to an old holiday location than picking any random level from the original Doom.
There's no question it's majestic, and it would be outright lunacy to deny its massive influence on the course of gaming, but for me, hmmm, it was more of a step from Doom to Quake II.
Alec: I have never replayed Quake in its entirety; in fact, I don't think I've even played the full version, just the extensive shareware. Oh, those were the days: kids harvesting huge chunks of shooter for free, then never playing the full editions until someone passed them a pirated copy. How come that business model didn't stick around, eh? But Quake is nonetheless a game which has burned indelible images onto my brain:
- The difficulty selection segment, which in my case was a true test of ability. I couldn't actually manage the jump required to access hard mode, so was effectively stranded in easy. Mouselook was brand new to me at that point, even in its half-formed Quake incarnation, and I was for a long time bamboozled that I couldn't just use the cursor keys.
- Some kind of elevator in the earliest level, which took me down, down, out of metal and stone corridors and into some kind of great outdoors. It seemed so unspeakably real, and the multi-tier level almost too vast to comprehend. Ah, innocence.
- The Shambler: the greatest, scariest, most massively unfair videogame monster I had ever seen. I'm not entirely sure that this has ceased to be the case, in fact.
The dogs gave me hell.
- I found the 'secret' low-gravity level and I genuinely could not believe my eyes. I even called my dad, with whom I had a pretty fractious relationship at that point, and who constantly tried to stop me from playing games, in to see it. We were truly living in the future, I decided: he grunted in scorn at my repeated deaths and walked off. God, that's how you do a secret level though; never bettered.
- I think Quake might be the only game for which I can close my eyes and conjure up specific textures. I can see its walls and floors and crates so incredibly clearly. It might not have been a constant in my life like its predecessor DOOM has been, but by God it blew open the doors of what I thought was possible; it said that games did not have to look like what I had I spent the last decade thinking they did. It said that they could become another reality.
- I spent an entire Summer holiday trying and failing to make the notorious, unofficial X-Men total conversion work on my PC. I never did, so to some undying teenage part of me it remains a dream game. I am almost certain it would be the exact opposite, so no, there's no way I'm trying it now.
Adam: One of my friends managed to download Qtest, the three map multiplayer demo/experimental build/beta a few months before the real Quake arrived. At the time, I wasn't particularly interested in a multiplayer game because playing would be such a faff. We'd had the occasional LAN party to play Doom deathmatch but playing online was out of the question. I couldn't even download the test because using the dial up internet connection for more than ten minutes at a time was grounds for, well, being grounded.
I was underwhelmed at first. The palette was drab, the environments were caught in a halfway house between the abstraction of a maze game like Doom and the apparent realism of bridges and buildings. What was this world supposed to be, and what kind of creatures would populate it?
We soon found out the answer to the second question when some enterprising internet-people figured out a way to spawn enemies. They weren't quite the finished product but getting a first look at what seemed to be diseased dogs, blocky ogres and angry soldiers was enough to convince me that Quake would deliver something worth my time and money.
I hadn't known what to expect at all before playing the game for the first time. There had been rumours of a fantasy RPG, with a Thor-like character slamming people around the level with a great big hammer. I remember hoping there'd be vehicles, despite the apparent medieval setting. It was exciting because whatever Quake turned out to be, it would be the next thing from the people who made Doom, which was far and away the best action game I'd ever played.
Here are the things that I most vividly remember from my first few hours with the finished product:
- Grenades bounced, spewing out gobbets of smoke. They made a big THUNK as they hit the walls. I'd never seen anything quite like it. Instantly, I wanted to see games in which everything rebounded, recoiled and reacted.
- There was a Nine Inch Nails logo on the nailgun ammo. I'd been as excited about hearing a Trent Reznor soundtrack as I had to see a new id game, such were my teenage musical tastes. The audio that we got had more in common with the Various Ominous Drones Reznor contributed to Lost Highway than an actual soundtrack, but that was perfect. Quake sounded meaty, industrial and grim, just as I'd hoped it would.
- Ogres continued to confuse me. They looked like barbarian butchers, but they had big ol' chainsaws and grenade launchers. I still don't know what that was all about. Watching them blow themselves to pieces if they got stuck in a pit was enjoyable. Like dogs, ogres can't look up.
- Fiends, with their rip 'n' tear claws and faces full of bloody teeth, scared the heck out of me.
Despite that final point, Quake didn't unnerve me in the way that Doom had. It felt more like an attempt to make a finely honed action game than a showcase for atmospheric design, the audio aside. Perhaps that's due to the confusion of the environments and enemies, or perhaps it's a byproduct of the technological leap forward muddying the artistic waters a little.
As a singleplayer game, Quake has never been among my favourites. But as a multiplayer game it won me over to the idea of LANs and fragging completely. Even now, more than a decade after setting up online games has become simplicity itself, I don't think I've ever spent as much time playing any game competitively as I did Quake. I even designed maps, usually involving some gothic cathedral idea, with switches to open up great pits of lava and other traps.
I was legitimately good at Quake, mainly because of the hours I put in rather than any real skill, and it absorbed me completely. I can still tap out the routes to weapons and powerups when I picture my favourite maps. I can still feel the burn of the lightning gun, which always seemed cheap to me, burning through armour as if it were made of balsa wood (it took concentration and skill to direct the bolt, but I struggled to use it effectively so fuck that).
Quake occupies a strange place in my memories. A formative game, definitely, but I didn't latch onto deathmatch for long once my days with Quake were done. Those days stretched into years though. Perhaps that's what makes Quake special - it formed a sort of cul-de-sac in my mental map of gaming and is still my ideal of the multiplayer shooter.
Further reading:
- John Romero has been talking Quake today, with a lovely set of early images from the game and a link to a .txt file containing interviews and previews about the game from back in the day, including what might have been as well a what eventually was. It's all well worth a read.
"if you kick a monster down from a cliff, it won't just fall down. it will spin round and round and flail with its arms. and you can cut an enemy's neck and take its head to sacrifice it to the gods of darkness, or wherever you might need the head. at this time, the head is a separate model so the enemies can look up and down and to different directions. and if you hit a monster to the head or upper part of the body, it may stumble backwards. and if you hit it to the legs, it may stumble forward. or if you see a guy standing on the edge of a tall cliff, you can run and kick him. he will fall down from the cliff, and get a big headache."
- Quake's entry in our 50 Best FPS Of All Time
"Quake, perhaps more than anything else, is the template for what a first-person shooter is today, especially in terms of deathmatch. That said, overlook the single-player side of things at your peril: it remains fiercely playable, with some excellent monsters and superbly imaginative level design, and a reminder of how brutal and thrilling things could be before the transformations of Half-Life."
"Somewhere in the dusty attic of my parents' house, there will be a box. My parents rarely throw anything away: if there's excess clutter, the situation is analysed, and the least useful items get taken up into the loft, where they might sit for years, if not decades. Inside the box, there'll be all manner of child's drawings. Drawings of cars and of planes, of rollercoasters and wild animals. There'll be the first three pages of a book called 'The Mystery of the Lost Pin', scrawled in a young child's handwriting and discarded by his attention span. And there'll be an exercise book, filled from cover to cover with level designs, monster sketches and weapon ideas. They'll have been there since 1996, when I was eight, and they'll all have been influenced by a single game: id Software's seminal 3D shooter, Quake."
- Free-To-Frag: Quakeworld's Once-Planned Business Model
"Quake had started building a multiplayer community even before release, with Qtest, and QuakeWorld was to encourage that competition and bragging something fierce. "All frags on the entire Internet will be logged," Carmack schemed in a .plan file update (an awkward precursor to weblogs, using the hilariously-named 'Finger protocol') in 1996"
"Spawn, sprint, left turn, elevator, shoot at the dog, cross the bridge, through the door, shoot the exploding barrel, left, right, right, hit the button to cover an acid pit, turn right down a corridor, hit the buttons down the ramps, hopping banisters to save time, left, right, up the ramp and hit the exit. Steam estimates that it takes 55 seconds to download Quake on a modern connection. I can complete the first level of its first world in 20 seconds. But it takes me no time at all to remember each part of the first first-person shooter I played."
"It's cross-platform, so you can totally use it in your future Valve-Linux-Steam-Boxmajig, or a pod-person's Apple Macintosh. Does that excite you? It excited me, and I'm not even going to make anything. I just love that someone out there can give 16 year-old game a new lease of life. There's something very PC about it all. It's like we're helping a punch-drunk boxer go out in style."
- SUPERHOT Meets Quake In SUPERQOT
"By comparison, SUPERQOT is a bit janky, since Quake's grunts, Death Knights, Scrags and Ogre's were never designed for real-time-with-pause combat. Still, it's fun. There's a single tip-ex'd level with sixty enemies to prance your way around, and it's a fair challenge given the number and relative strength of the enemies you're facing."
- This Flash Port Lets You Play Quake In Your Browser
"Flash: what can't it do? Well, it can't fix the wonky big toe I've got as a result of kicking a rock when I was 13, that's what it can't do. But it can run a remarkably smooth version of the original Quake in a browser. Mouse support, the constant bane of Flash games, is a little off – you have to hold down the left button to activate mouse-look, meaning firing happens with Control, but it works pretty well nonetheless."
Happy birthday, Quake!