Radical Heights trampolines awkwardly into Early Access
Not a bad enough dude yet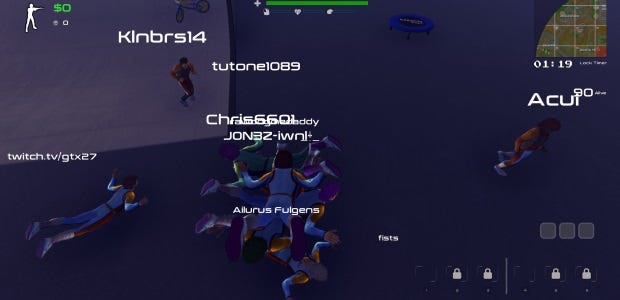 It's been a thrilling 24 hours for Radical Heights, the new free-to-play battle royale shooter from LawBreakers studio Boss Key Productions. Within the past day, the game has been announced, trailered and launched into Early Access, but not before becoming embroiled in a short-lived pay-to-win controversy. Unsurprisingly, it's not been the smoothest of launches either, with players currently as likely to wind up stuck in a tangled heap of limbs in the lobby as placed in a match.
Somehow, Boss Key managed to court controversy before Radical Heights was due to launch, through the announcement that the Founder's Pack pre-order package for the game would include a lifetime 10% persistent cash booster. The key twist of the game, outside of it's '80s game-show stylings, is that you can cash out a portion of your prize-money takings from each round, win or lose, and use them in later matches to give yourself an early boost through gun vending machines. It's not hard to see why giving a small subset of players this perk would be a questionable decision. Thankfully, Boss Key backed down from this move and instead offer an additional bundle of Rad Gems to Founder's Pack players, a premium currency used to buy purely cosmetic costume pieces.
So far, I've managed to get into one and a half matches. My first was a solo-queue round where I encountered no real technical problems, but found my adventure through this impressively tacky retro game-show world cut short about ten seconds in by a headshot from an unseen assailant. Somehow, I managed to bank $71 in my persistent account despite this. My second match was less successful, as you can see in the screenshot up top. The match began as normal, but failed to teleport the players into the game map, causing them to spawn on top of each other in wingsuit poses in the lobby room.
Eventually, the tangled mess of limbs began to wiggle itself loose and players began looking for weapons. Some found them. Others just took to beating their fellow players to death bare-handed. I bounced off a trampoline up to a high ledge where I lay in a corner on the top floor, laughing and waiting for death. So far, so good then. Further attempts to jump into a match left me stuck, seemingly endlessly, on a loading screen. A news ticker in the game encourages players to 'Embrace the jank'. I feel that it has embraced me already, and I would quite like it to let go, please.
While this is merely conjecture, I've got some concerns regarding the financial stability of the studio. It's no secret that LawBreakers tanked, something that few studios can afford, and Boss Key Productions have been keen to reiterate that unlike their Nexon-backed previous game, Radical Heights is an entirely self-published title. In short, the studio are shouldering any and all financial risks on this one. It's a risky gambit for the studio, headed up by former Epic lead Cliff 'Don't Call Me Cliffy B' Bleszinski, and one that I hope pays off for the sake of everyone working there. This one might take a while to find its footing, though.
If you're feeling like a winner, or just curious, you can grab Radical Heights free via Steam here. It's a relatively lightweight 2.2gb download, although it decompresses to around twice that. Technical issues aside, it should be noted that at present, only male avatars are available.