Rapture Rejects tests the holy waters in early access next week
Our god is kind of a jerk, actually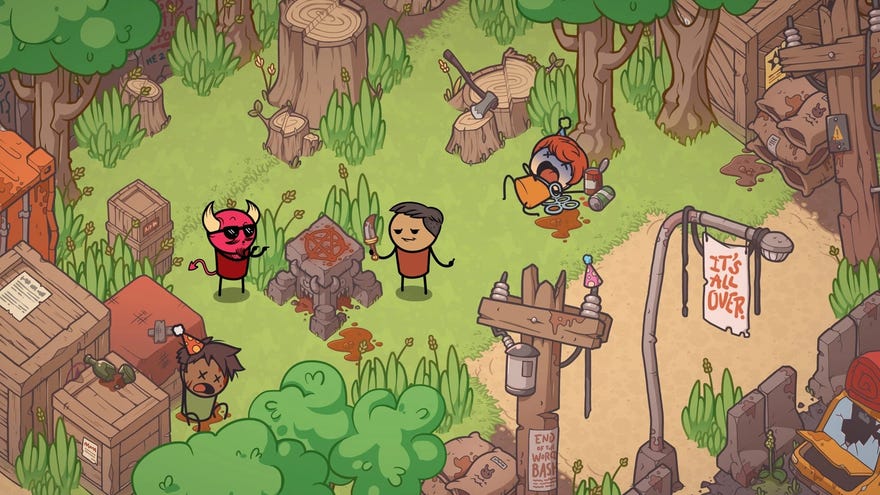 The battle royale genre is as ferocious a brawl as any Fortnite match, and you really need a hook to survive. Rapture Rejects has several - for starters, it's isometric and cartoony, instead of being yet another first or third-person tactical head-clicker. Second, it's based on scattershot and frequently edgy webcomic and cartoon series Cyanide & Happiness, though your mileage may vary on whether that's a perk or a reason to steer clear. Either way, it's launching into early access next Thursday, November 29th and developed by Explosm and Galvanic Games.
Playing as the last, increasingly unhinged dregs of society after everyone worth caring about got rapture'd up to heaven, the last man standing wins God's favour and the last ticket to paradise. Blasphemous? Yes, but it's as good an excuse as any for there being absolutely no holds barred in the ensuing murderfest. First announced in June, Rapture Rejects has seen some changes over several runs of closed alpha testing. For starters, its hundred-man rumbles have been pared down to fifty players. Hopefully it'll be able to sustain itself during its long stay in early access.
Galvanic and Explosm are in this for the long haul. Rapture Rejects is planned to stay in early access until early 2020. The early access version will have hand-crafted environments, but they want to include procedural generation in later versions, and greater player character customisation. There's also plans for more of everything - weapons, perks, items - plus the usual balance tweaking. The final launch will cost more, but that's still over a year from now. After so many others have struggled to find their niche, I can only wish the developers luck, and maybe a chicken dinner.
Rapture Rejects launches into early access on November 29th, next Thursday. It'll cost £15.49/€16.79/$19.99, and you can find it on Steam here, or its official page here. It's published by TinyBuild.