Suburban Survival: Rebuild - Gangs Of Deadsville
Jauntrification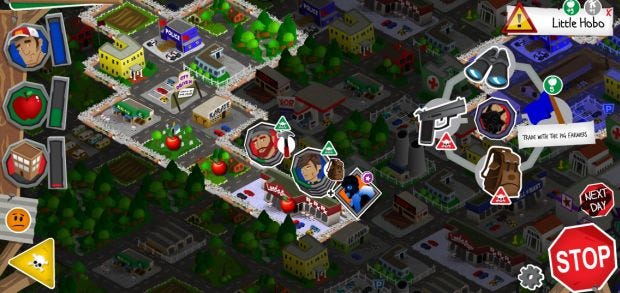 The Rebuild series has filled many a train journey and lazy evening, simple enough to provide a mobile diversion but smart enough that the time doesn't feel entirely wasted (see Tiny Tower, a charming bottomless pit of taps). Rebuild has difficulty settings, randomised cities and involving turn-based survivor management. It's about zombies of course, but it's also about pre-zombies, also known as human survivors. Beginning in a safehouse, the player's gang must gather resources, scavenge for food and recruit other survivors. The ultimate aim, as the title suggests, is to rebuild the city, gradually making entire districts safe. Gangs of Deadsville, now available on Early Access, adds new events, a tech tree, survivor abilities and an entire faction system.
I spent half an hour with the Early Access release last night and it already feels the equal of the previous game in the series. There's a realtime mode but I switched to turn-based, as I would with just about any game given the chance.
My brief dabble didn't introduce me to the actual gangs of Deadsville but even in its incomplete state, the game contains enough that'll be new to people who have experience of the series. Promising. I may spend more time with it soon, although I'm tempted to wait for the full release before committing.