By Riker's Beard! Redshirt Beams Down At Last
Early Greys at the ready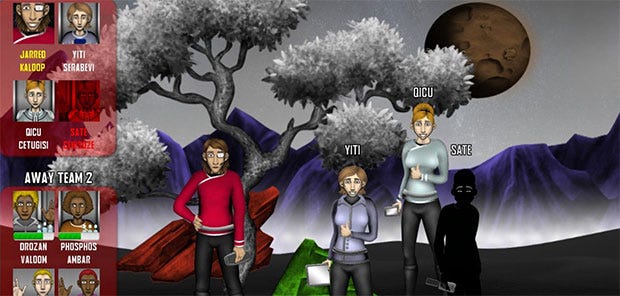 Stardate -309131.9634703195 (or so a random website tells me it is): a videogame is released, on the internet. I think Oor Graham plans to bring you An Opinion on social networking meets Star Trek comedy game Redshirt a little further down the line, but according to the Captain's Log (my RPS inbox full'o'press releases) The Tiniest Shark-developed, Positech-published sci-fi, turn-based management sim has made itself available for purchase as of this very day. Disaster-strewn social ladder-climbing within the confines of a starship also puts me in mind of Red Dwarf at its most well-grounded, which is a good thing. I do hope there's a Gazpacho Soup achievement.

One launch trailer for you:
I'll confess to not entirely digging the character artwork from afar, but I do like the Next Generationesque computers/UI. As mixed bag a thing as Star Trek over the years might have been, that was a splendid bit of design which has resisted the passage of time far more robustly than a lot of other last-century fictional future-computers ever did.
Redshirt can be acquired for 1454543 Betelgeusian Space-Groats, or £15, directly from the dev here, or on Steam here. Let me know what you're making of it - I have All The Games on my plate at the moment, but I am very tempted by this if I can find the time.