Democracy 3's Africa Expandalone Released
Somewhere new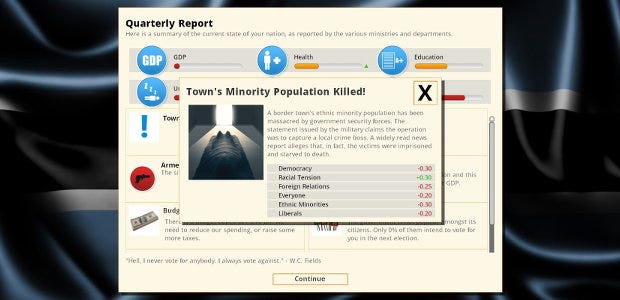 Positech Games have released Democracy 3: Africa [official site], a standalone expansion to their political strategy game. It's the same basic 'try to run society through decisions and a billion buttons and charts and statistics' idea as regular Democracy 3 (see Wot Graham Thinks of that) but hopped on over to Africa. This means a makeover and a few changes to the policies and societies it simulators, but at heart it's pretty similar. It's an expandalone, yeah?
More specifically, Africa lets players take the leadership of Nigeria, Egypt, South Africa, Kenya, Ghana, Zambia, Senegal, Tunisia, Botswana, and Mauritius. That seems a fair range of countries, and they certainly face different problems to Democracy's European and American regulars. Africa is following Positech's basic Democracy 3 formula, but the expandalone is actually designed by Jeff Sheen of Stargazy Studios.
Casting an eye over Steam player reviews, it sounds like Democracy 3: Africa is largely more of the same but more difficult - which is either good or bad depending on what you'd want for £11.
Democracy 3: Africa 3 is £10.99 on Steam and £10.69 on GOG for Windows and Mac. Here's the fancy trailer:
Or, for actual gameplay, here's Positech's Cliff Harris playing as Zambia with... limited success. Democracy 3 was hardly light on assassinations in the first place.
Positech previously mentioned the trouble with "two white guys in the UK making a game about Africa", and they address it again in the game's official FAQ. Conceding it will "almost certainly" be "biased/wrong/racist/bad in some way", Positech explain:
"All attempts to represent the culture or economy of a country by people who are not native to that country will be in many ways wrong or biased. Positech is a UK-based company, so we no doubt have some prejudices and biases and big gaps in our knowledge. We have definitely done our best to research the countries involved as much as possible to make this representation as accurate as possible *within the simulation*

"Remember ultimately that this is a game, and designed to be fun, and that true accuracy is impossible. Also be aware that we are very open to criticism, and are actively interested in feedback. We have no political agenda here, and are trying to represent Africa as best we can. Please let us know where we got it wrong."