More To Explore Is Renowned Explorers' DLC, Duh
Indie-ana Jones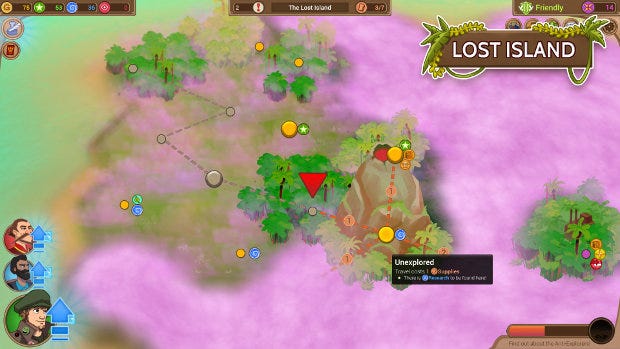 With its charming aesthetic and intriguing gameplay, Renowned Explorers [official site] has been one of the pleasant surprises of last year. Since its launch, devs Abbey Games have been showing love and support to their creature and the community around it, with regular patches bringing in improvements, fixes and small additions as well as weekly competitions.
May 31st will see the launch of the game's first paid DLC, More To Explore, bringing more content in the form of new places to explore, but also more gameplay interactions and new storytelling mechanics. Form a party with a couple of unlikely friends to explore south of the break.
Wait: before embarking on new adventures, it's good to review what we already know. Renowned Explorers is a strategy game set in the 19th century, in which you can scare, charm or fight your way through hundreds of procedurally-generated adventures. Think FTL meets Indiana Jones at a masked party, with both getting happy-drunk and sharing absurd stories of their adventures. Adam certainly seemed to enjoy it.
The new DLC will have three types of new content. First up are two new expeditions, set in Ancient Incan territory in the Andes, and on the mysterious Lost Island, hiding treasures and foes under fashionable pink mist. Secondly, the introduction of campfire chats (surely a nod to Darkest Dungeon) will let players explore the backstories of their ragtag crew. It'll be interesting to see how a lady luchador, a pirate captain and a scientist interact.
Campfires will expand the narrative as well as the gameplay: as your people share memories and personal ambitions, their personalities will change, altering the way they fight or negotiate and requiring new strategies on the part of the player. To top it off, new treasure means new powers.
More To Explore is coming out on Tuesday, May 31st, through Steam, Humble and GOG. No word on pricing quite yet.
We haven't run a proper WIT of this one, so let me ask you: have you been playing it? What did you think? Have you participated in any of the weekly gameplay or fanfiction competitions?