Reparations: Fragments Of Him Receives Funding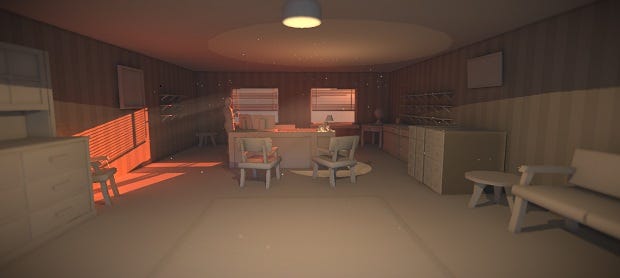 Fragments of Him is a short, free game in which the player observes a man grieving for a lost love, which makes it extremely surprising that nobody at RPS has had a big cry over it yet. Despite the fact that all game journalists are contractually obliged to spend at least one hour every day pretending to be either barbarians, special ops chaps or space marines, we're a bunch of softies. I'm glad we missed this particular game first time around though because there is news of an enhanced version and having played the original today, I reckon it'd benefit greatly from a few additions. It's still well worth a look but it's easy to see the cracks that could be plastered over with a little more development time.
I haven't played The Novelist yet, but the things that Alec's heart and head wrote about it put me in mind of Fragments of Him. However, whereas players has the ability to influence events in the former, Fragments places them in an almost entirely passive mode. The only way to interact with the (mostly) frozen scenes is by walking near objects and clicking on them. Certain ones, clearly marked, will fade from view, sometimes triggering a few sentences of spoken commentary from the narrator, who is remembering and mourning his partner.
The voiceover, by designer Mata Haggis himself, sounds like a line reading rather than a performance, but it detracted less from the experience than a lot of acting that studios pay for. It all looks good though, with only the final scene perhaps needing a slight aesthetic boost, which the screenshot above shows is already in the works.
Whether my main quibble will be addressed, I'm not sure. Before moving on, each scene must be cleansed of all the objects that can be removed. At first I thought the order that they were touched might change the narration but I don't think that's the case, which means that running around and clicking on them all, particularly the ones that don't seem relevant to the emotional thrust of the story, is busywork, distracting rather than engaging. By the time I reached the second scene, I was concentrating more on hunting for clickable objects than on weeping into my hands, and that's not like me at all.
Because some of the interactions are meaningless, serving only to do the equivalent of filling up an experience bar, they pushed me away rather than pulling me in. That said, even if there is no change on that front, I'll definitely keep an eye out for the updated version. It's being made with funds from Mediafonds and there are far more details here.
You can play the current version right now.