Reprise Of The Triads: Shadowrun - Hong Kong
Co-funded by Kickstarter backers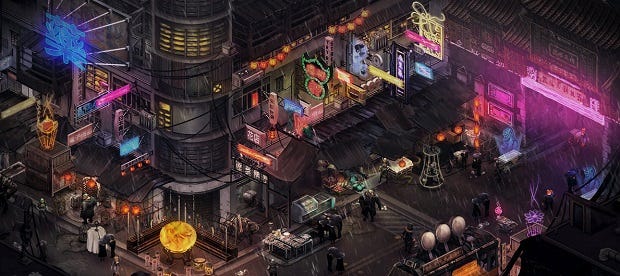 Shadowrun is returning. Again! I've already covered the basics of Shadowrun: Hong Kong, Harebrained Schemes' next step into the world of fantastical cyberpunk, but the Kickstarter has just gone live so there are plenty of details to wrap that bundle of wires you call a brain around. The video below contains the first glimpse of the game's isometric interpretation of the setting, unless you count the concept art above, in which case it's your second glimpse. After the great success of Dragonfall, I'm eager to take another trip into this particular vision of our electronic future.
Harebrained may be returning to Kickstarter for Hong Kong but their approach won't be the same as for their first Shadowrun game, which was entirely crowdfunded. This time they're after $100,000 rather than the $400,000 target the first time around. That project eventually raised almost two million dollars. Over to studio co-founder and Shadowrun executive producer Mitch Gitelman to explain the approach this time around:
We've already begun development of the Hong Kong game. We're self-funding the first 12 hours of gameplay at the quality level of Shadowrun: Dragonfall - Director's Cut. But we have plenty of ideas for features and runs that didn't fit into our budget. We love Kickstarter and we think there's no better co-funding partner than our fans to help us take our game to the next level.
The next level is the best level.
As for Hong Kong itself, it'll have plenty of groovy lighting and an assortment of dangerous societies to navigate.
Set in the magically awakened city of Hong Kong in 2056, players will find themselves exploring the underworld of triads, tongs, wild magic, and bleeding edge cybertech with a crew of flawed, dangerous runners each with their own backstory and special abilities.
I have a feeling that even if I did live in a world of cyborgs and magic, I'd still manage to avoid any triads or flawed, dangerous runners. I'd probably managed to avoid bleeding edge cybertech as well because I'd undoubtedly be skint. The only thing bleeding would be the flesh-port where some back alley hardware merchant had tried to install an espresso machine into my knee. I wonder if cyborgs sometimes need cable ties to hide the loose ends of their cheaper or more cumbersome peripherals? That'd be me, with wires hanging out of my trouser legs, with the sound of a dialup modem having a breakdown regularly emitting from somewhere around my bellybutton.