Resident Evil 2's swish remake coming in January 2019
Coo 'eck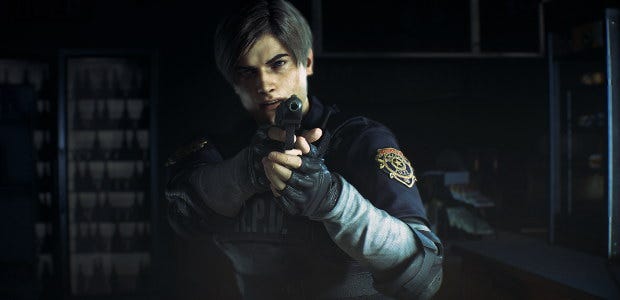 Capcom's fancy remake of Resident Evil 2 will launch on January 25th, 2019, they announced tonight. The horrors of Raccoon City are looking fancier than ever in the first trailers and screenshots - do remember that this is a full remake built on the Resident Evil 7 engine, not like most of Capcom's recent halfhearted 'HD' re-releases of other games in the survival horror series. Capcom say they've made a few tweaks here and there, but by and large it's still good ol' RE2, only now with shinier guts. That's not me talking; Capcom specifically boast about a "horrifyingly realistic wet gore effect" for zombs. Good. Great. Lovely. See it here in the trailers.
Those are some good-lookin' terrible things.
Along with the obvious, Capcom note that they have switched the camera to an over-the-shoulder position, which I certainly welcome, and "modernised" the controls. What exactly that means may prove a bone of contention for some purists, but I'm up for change.
Here's some flesheating for you? Just the ticket at 4:03am? Oh, who knows.
Capcom first announced their RE2 remake way back in 2015, along with asking an unofficial fan remake project to kindly stop their work. The folks behind that, Invader Studios, moved on to making a survival horror of their own, Daymare: 1988.
Check out our E3 2018 tag for more announcements, trailers, news, and goodness knows what else.