Game Dad: Resident Evil Rev 2 Barrying Up February
Barry's back, gruffer than ever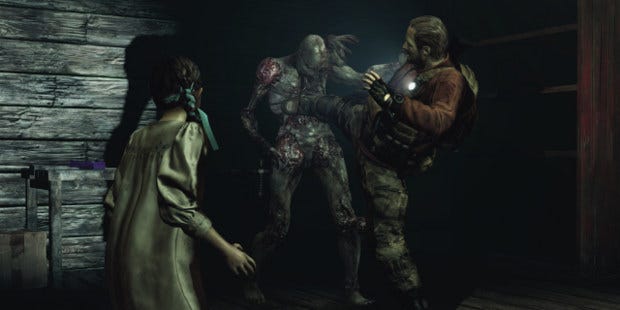 It's not easy, being a game dad - a gruff, burly, bearded figure whose parenting technique is heavy on slitting throats, kicking teeth in, shooting faces, and shouting. I can't imagine how this works with mundanities like homework, chores, and teenage rebellion, but it seems to work out all right in apocalyptic scenarios. When your daughter/daughter figure is in trouble, a game dad's gotta do what a game dad's gotta do. Resident Evil comic relief character Barry Burton has been a dad all along, but a new Resident Evil Revelations 2 trailer shows he's promoted to the gritty role of game dad. This also brings word of release dates for the episodic game's chapters.
Yes, Bazza's back in Rev 2, searching for both his real daughter and helping a newfound daughter figure. Given that his daughter figure has psychic powers and his actual daughter's not only on a monster island but gone a bit punky too, his double dad duty is sure to be a headache! The game will be split between bits with Claire Redfield and Moira Burton doing their own thing, and Barry doing his game dad routine with new character Natalia Korda.
The game dad is a funny creature. Games like Telltale's The Walking Dead and PlayStation exclusive The Last of Us have shown games can tap into the vulnerability of children and the responsibilities of parenthood for unexpected emotions in surprising places, and others are keen to follow their lead. The problem is, without tenderness and subtlety - something many games have proven is awfully tricky - your father character becomes just a game dad, a shouty armed beard who's less relatable than an 8-foot space marine. Call me a horrible sceptic, but I'm not sure Resident Evil can pull it off.
Anywho, Capcom also announced the release timetable for Revelations 2. The first episode will arrive on February 18th, 2015, then the other four will follow at weekly intervals. They'll cost £4.99 each or come as a 'Complete Season' with two extra spin-off episodes for £19.99.