Resistor is an open world vehicular combat RPG
From the maker of great Source Filmmaker shorts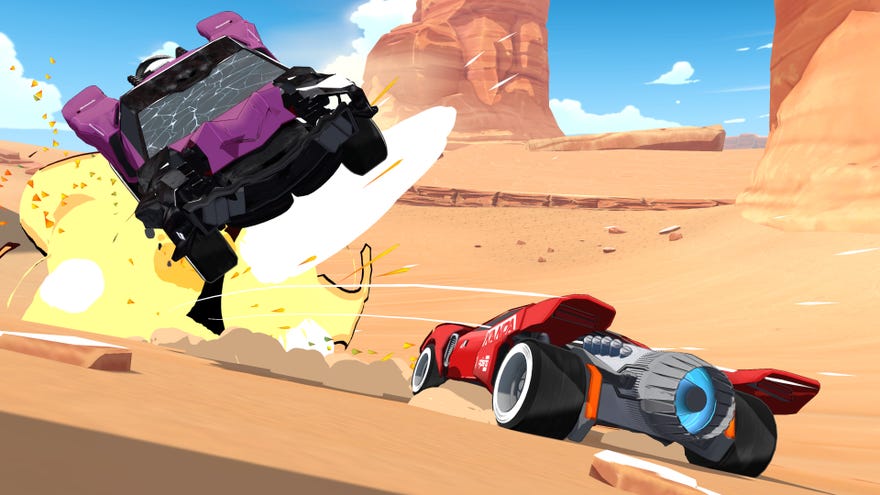 Resistor is a narrative racing game. That alone is enough to intrigue me, but it's also got vehicular combat, a slick art style, and it's from a new games studio founded by the creator of some really excellent Team Fortress 2 shorts. You'll find the announcement trailer below.
Set in the year 2060, Resistor is set at a time when nation states have been destroyed and all that remains are corporation-controlled city states. If you want to live in a city instead of the desert wastes beyond, you need a "city pass" - and winning a series of death races is one way to get one.
For Aster, Resistor's protagonist, winning the championship is also a chance to win healthcare for her sick mother. "But is life beneath the glossy veneer of Ethan Dekker's corporate utopia truly as idyllic as it seems?" asks the Steam page. I'm going to take a wild guess and say: no.
Resistor lets you drive around the desert wastes in between races, and use the spoils of your victories to upgrade your base and expand your territory. You'll also be recruiting a team to race with you and building relationships with other characters will improve your performance together in races, Fire Emblem-style.
All of this is being made by Long Way Home, a new studio founded or co-founded by McVee, who previously directed cinematics for the likes of the Mass Effect series and Star Wars: The Old Republic. I first encountered McVee's work in the Source engine, however, on beautifully edited trailers for mods like NeoTokyo and shorts for Team Fortress 2 such as Practical Problems and End Of The Line. The latter became the foundation for a community item pack for Team Fortress 2 itself. I am eternally grateful for this End Of The Line shot breakdown she produced for us as part of an interview about the making of the short.
I've been hungry enough for vehicular combat recently that I booted up Split/Second last week. The hunger remained unsated. Resistor has no release date as yet, but I'm looking forward to it.
---
NotE3 and Summer Game Fest 2023 is over for another year. You can find out all the latest news by visiting our E3 2023 hub, or you can catch up with our round-up posts of everything that was announced at Summer Game Fest, the Xbox Games Showcase, the PC Gaming Show, Day Of The Devs, and our top highlights from the Wholesome Direct.