Crytek's VR dinoland Robinson coming to PC after all
Get your goggs on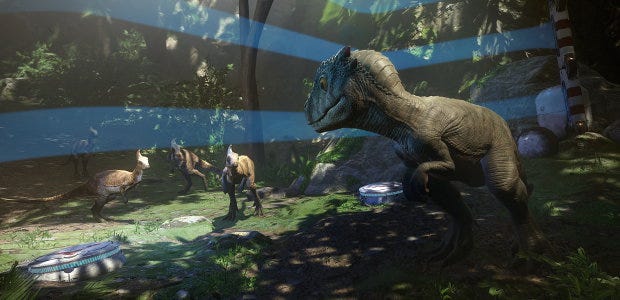 Given that the term "exclusively" in video games often has an invisble "until a deal we can't tell you about expires" attached (if you're curious: this is visible only by the light of a blue moon), it's probably not a surprise that Crytek's PlayStation VR exclusive dinosaur adventure Robinson: The Journey [official site] is now headed for a PC version. Yup, Crytek may be closing several studios and laying off staff but they're not done just yet. In January, the cybergoggle dinoventure will hit PC for Oculus Rift goggs.
As we've mostly ignored Robinson, here's quick marketing blurb recap:
"Robinson: The Journey invites players to step into the shoes of Robin – a boy left stranded on an extrasolar planet in the aftermath of a doomed space voyage. Accompanied by AI unit HIGS and baby T-Rex Laika, Robin must use his wits to survive in a world full of adventure, secrets, and breathtaking dinosaurs. Rift players will feel truly present in another reality as they search for fellow survivors and unravel the mystery at the heart of Robin's journey."
You wear goggles and make friends with a dinosaur, okay? As I understand it, it's another VR tour-o-game. Well, it'll beat Ark: Survival Evolved spin-off Ark Park out.
Alec, our resident cyberman, did quite enjoy Crytek's VR rock 'em up The Climb.
Here, look at these dinos: