Rock, Paper, Shotgun Goes Free-To-Read!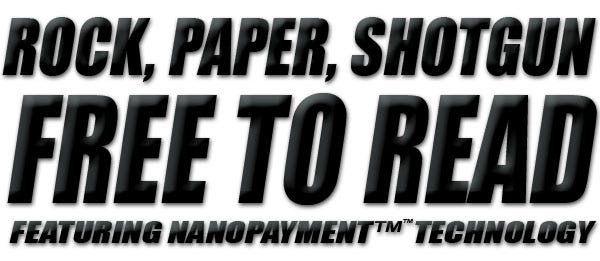 Rock, Paper, Shotgun Ltd. announces Rock, Paper, Shotgun is to go free-to-read, introduces new NanoPayment™ Technology™
BATH, UK, 29 June, 2011 - In a move once more demonstrating that Rock, Paper, Shotgun Ltd is at the forefront of online PC gaming news development initiatives, the organisation is delighted to announce that as of the 1st July 2011 www.rockpapershotgun.com will be going free-to-read.
"Once again Rock, Paper, Shotgun Ltd has proven that it's ahead of the curve, pushing forward new synergic stratagems for dynamic reader integration," explained RPS representative, Dave Tosser. "We believe that by moving RPS forward in this free-to-read direction, our web enterprise once again advances the scheme for all interactive users on a broad dynamic scale."
Where other gaming sites are still using the outdated model of offering their information without the option for consumers to choose to pay for content at will, Rock, Paper, Shotgun is taking the bold step forward to introduce optional micropayments to all its free-to-read posts.
"This is such a great opportunity for our readers," RPS founder and creative director Dave Tosser points out. "As we continue to transition our business for the future we're reviewing our practises, like most media organisations, to ensure we are investing even more in the areas which will advance our progress and secure the company's future as a successful and profitable publisher. Finally people will be able to pay for the free content they want to receive."
Of course there will be no need for readers to pay anything at all to read the new Rock, Paper, Shotgun. The first two paragraphs of every post will always be accessible to everyone, and readers can read them as often as they want, wherever they want, unlimited times*. The rest of the post will become available to those who make the RPS patented NanoPayments™, of anything from just $0.59® to only $299.99 per article. And Premium Users will continue to receive the same excellent service for exactly the same price as everyone else.
Launching at the start of next month, this new initiative aims to make the site more accessible to both readers and advertisers alike.
"This is the next big step forward in online content distribution," said RPS co-owner and CTFO Ian McProfits. "Our readers will have access to more opportunities to make payments than on any other gaming site out there, thanks to the new paradigm of online games reading technological innovation opportunities. Paying for free content has never been easier!"
The NanoPayment™ technology is being introduced as part of Rock, Paper, Shotgun's plans to be delivered exclusively via RPS Ltd.'s new offline portal, the rMat™. The mousemat/portable browsing device will be launched exclusively on Rock, Paper, Shotgun's rStore in September, for an RRP of £989.99, and will be the exclusive way to read the site.
*Up to a maximum of four times.