Rocket League to celebrate birthday with new map
Birthday party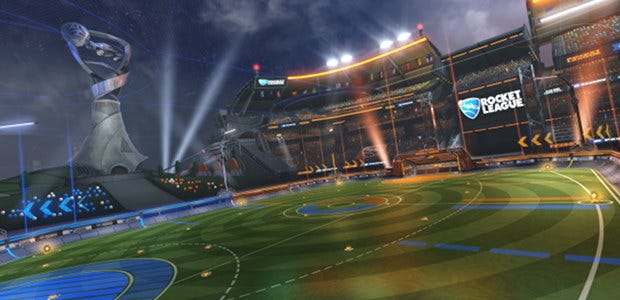 Like a jammy dodger who books a bouncy castle for their child's birthday party, Rocket League [official site] developers Psyonix are giving plenty of notice about celebrations for their gamebaby. Rocket League turns two on July 7th, and on the 5th Psyonix plan to release a big update bringing a new arena, the start of its fifth competitive season, new engine sounds, custom goal explosions, and new sportscars like a mutant F1 racer. That's the news out of the Rocket League Championship Series Season Three World Championship this weekend, whose livestreams are archived for folks who fancy watching world-class carball.
The new arena arriving in the 2nd Anniversary Update is Champions Field, a ballbubble set in a swish stadium. And yup, it's a standard-shape arena. After Psyonix flattened Neo Tokyo, I'd guess they won't be making odd sportszones again any time soon. Well, beyond Dropshot mode.
A new loot crate will arrive with the update, packing two new cars -- the Animus GP and Centio V17 -- along with new car trails and the other usual cosmetic doodads.
Psyonix have treats for our ears too. Along with boshing in new tunes for the soundtrack, they say "We've revamped all existing engine sounds in-game and dropped in new engines for Battle-Cars that previously didn't have unique sounds." Vroom!
The update is due July 5th. Here, have a gander at the update this here trailer:
If you fancy watching the RLCSSTWC (catchy!), the three days of fun are archived on Twitch.