Rocket League adds new arena, Rick & Morty items today
Let's go motorsports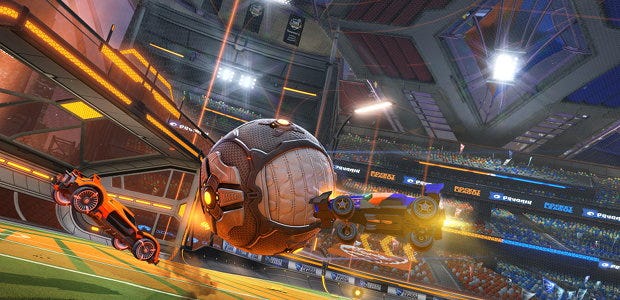 Today is a notable day for Rocket League [official site]: it's the day two days before the second anniversary of its launch! What better day (other than the obvious) to launch an anniversary update? Developers Psyonix are today adding celebratory goodies including a new carball arena, new cars, and new Rick and Morty trinkets to decorate your sports car. Presumably the purpose of pre-anniversary anniversary update is to let everyone party down and wreck themselves tonight, recover over tomorrow, then be professional and respectable for the actual anniversary on Friday - be nice to sponsors, avoid swearing in front of the cars' parents, and such.
Along with the new Champions Field arena, Psyonix point these out as the highlights of the 2nd Anniversary Update:
FREE Rick & Morty Customization items distributed as Common drops after online and offline matches, including Rick and Morty Antennas, 'Cromulon,' 'Mr. Meeseeks,' and 'Mr. PBH' Toppers, an 'Interdimensional GB' Rocket Boost, and 'Sanchez DC-137' Wheels
'Rocket League Radio,' which adds a new default music playlist "Rocket League x Monstercat" with 18 new tracks from EDM music label Monstercat
New Import Battle-Cars 'Animus GP' and 'Centio V17,' available exclusively as drops inside the new 'Overdrive Crate'
New Overdrive Crate with the potential to unlock animated decals, brand-new trails, and more
New customization options like 'Engine Audio,' 'Goal Explosions,' and 'Trails' that are a mix of FREE selections and Crate drops
End to 'Competitive Season 4' and Trail rewards distributed to competing players based on their highest skill tier reached
Beginning of 'Competitive Season 5' with new changes
Six new achievements and trophies
Full patch notes should arrive alongside the update, which is due at 11pm tonight (3pm PDT).