Rocket League serves autumn update bounty
Such a pretty map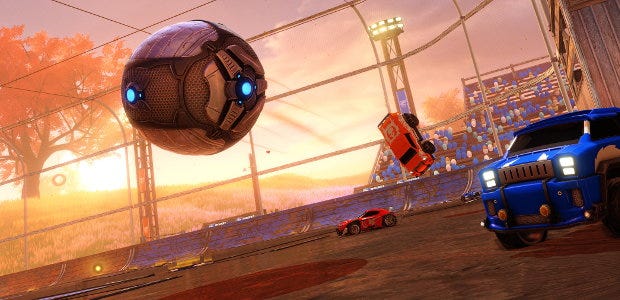 Autumn is here and Rocket League [official site] certainly has noticed, last night launching its big Autumn Update with new arenas for carball as well as some decent new features. We get to ball around a beautiful new farmyward sportszone, new regulation-shape versions of the Wasteland and Starbase ARC arenas, and day and snowy variants of several other maps. That's the magic of doing sports in cars under a dome: seasons cannot ruin the sports. Other big bits include local multiplayer support for LAN parties, an AI director for spectator mode, and loads of new cosmetic bits to customise your brum-brum.
The new arena, Farmstead, is a gorgeous seasonal map coming to all playlists. Enjoy it while it lasts, sportschums. Sticking around forever are the new standardised versions of Wasteland and Starbase, now their old irregular versions have been shuffled out of the main playlists. The old Wasteland and Starbase, now named Badlands and ARCtagon, are still playable in Rumble, Private Matches, and Offline, but they're gone from main modes.
Speaking of Offline, this update lets folks play matches across their local network, without any online connection. Sound the LAN party claxon, crowd into a room, and try to blow out the windows with the collective air pressure of your PC fans - and be sure stock up on bottles of fizzy water to hose the winners and their computers.
Also! Transparent goalposts so goalies can clearly see out. The new AI director for spectator mode is now in beta, doing its best to give a good view of the action. Player banners, a new type of cosmetic item, glam up people's names. And... aw heck, see Rocket League's Autumn Update patch notes for the lot.
Beyond this, developers Psyonix are also working on an in-game tournament system, which they hope to launch into beta later this year. A new party system is coming too, one which potentially paves the way for cross-platform parties.