Rocket League DLC Adds Massive Balls, Square Balls
A nod to UT mutators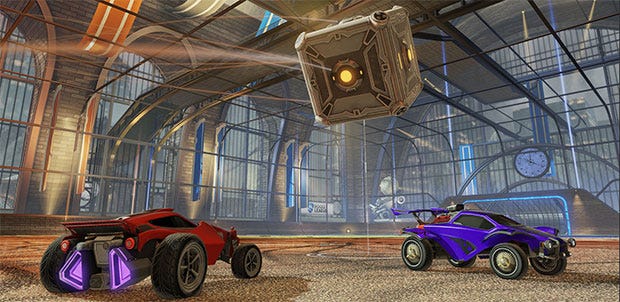 Car-wot-plays-football smash hit Rocket League [official site] is the gift that keeps on giving. And I don't mean simply that the next downloadable content is free, but also that it continues to ramp up the game's signature ridiculousness. Next month sees the addition of Mutators, a loving nod to the Unreal Tournament feature of the same name, with which you can remix RL matches into something a little stranger. Make the ball gigantic, for instance, or square. Make it into a giant ice hockey puck, or a low-gravity Moonball. Make it faster, make it explode. It's the obvious add-on for Rocket League in a way, and it costs no-pennies.
More will be revealed a little closer to the time, including in a livestream tomorrow, but in the meantime here's a megamix video of broadly what to expect:
That's out sometime in November, and will include a new playlist called "Mutator Mashup" which essentially offers a random mix of the new modes - though obviously you can alternatively pick and choose which Mutators you want in a match yoursef. An additional Mutator, known as Hockey Mode, will also follow in December.