RPS interviews Into The Breach's developer about hurting our feelings
Hurting your feelings is good business.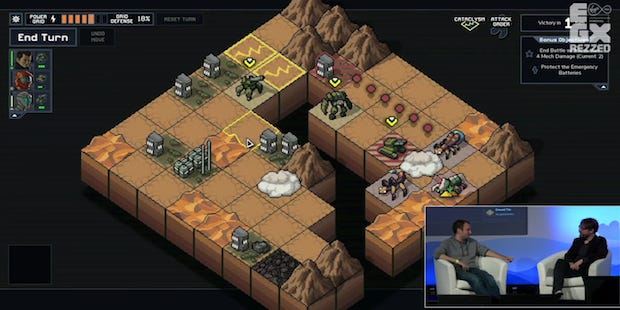 The folks at Subset Games are responsible for the games FTL and its follow-up Into The Breach, which means that they are also responsible for some of the most frustrating yells I've done alone on an airplane. I'm sorry to those around me, but I thought I was going to finally complete a run and then everyone I loved exploded or died from lack of oxygen or fell into the ocean. I assume Subset Games has been responsible for similar micro-aggressions against many of you. Which is why Adam Smith from RPS held them to the fire (a pleasant conversation) at Rezzed yesterday.
If y'all haven't dived into Into The Breach, imagine Pacific Rim through the lens of a microscopic XCOM, where mechs-versus-kaiju force you to make make time travel judgments on a 8x8 panel and deal with the consequences when inner-earth monsters cripple your civilization.
Matthew Davis, one half of Subset Games, sat down with our very own Adam Smith today. At length they discuss FTL, building a follow-up to an indie hit, why giant robots are cool, and the shifting environment of indie games.
Justin Ma was absent, but Davis gets into how the FTL follow-up didn't need to be rushed out, and Adam asks them about the Difficult Second Album Syndrome. Which, of course, applies overwhelmingly to a development team made of two dudes who only hire out when they need someone more talented then themselves.
The talk is fascinating. Both men behind this small indie (and FTL) took their first job together at 2K Shanghai and started building both FTL and the engine from a place of hobbyist interest. They also go out of their way to thank RPS for being the first (second) website to focus on how great their original game looked. But from here the team gets into how you build a house of cards within the drama of gameplay that threatens the player with knowing they are about to lose -- and demanding they make peace with it.
They also discuss how FTL was renowned for its difficulty, but how Into The Breach struck such an in-between that the first two negative reviews on Steam said "this game is too difficult" alongside "this game is too easy." How do you make both consumers happy? No one knows. They certainly don't.
On a much more specific level, you can hear a discussion about how up until the day of release, the devs were still redoing the UI because they know that was the most important part of how the world would take this. There's... there's a lot more.
Check out the interview from Rezzed right here: