Flowery: First-Person Drifter Ruah
Oh deer oh deer oh deer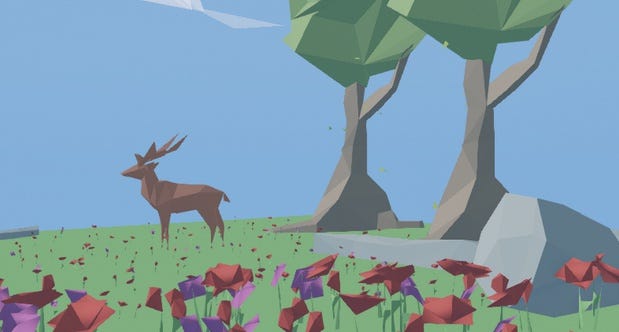 Hey there, gang. Alice O'Connor here, joining you this evening to share a screenshot of a deer near some trees and some rocks and some flowers. Look at that. It's great, isn't it? It's from Ruah, and it's not even the full picture. You'll find that over here. Ruah's a game about drifting around as a wind spirit, gathering deer and bringing spring to a land of low-fi polygons. It sounds a bit like Flower, from my vague second-hand knowledge of thatgamecompany's PlayStation 3 game.
That's enough preamble. Come look at another screenshot, okay? The next one has a waterfall.
The devs explain in a TIGForums post:
The player can float through the game world and use 'Ruah', a soft magical gust, to interact with his environment and the deer gods. Watch how the flowers grow and the butterflies dance as you summon 'Ruah' whenever you please. The game doesn't provide challenge or threats for the player. He can relax thoroughly and feel the 'sense of wonder' as he progresses through this short and linear experience of harmony and peace.
It's got a procedural soundtrack too, for peak dreaminess.
I feel I'm being a bit predictable, seemingly posting about every game with low-fi polygons. But it's not just the aesthetic--games in this style seem disproportionately likely to be the sort of dreamy first-person game that I do so enjoy. It's not simply that I adore the art style, rather I like the types of game which work well paired with this abstract and evocative look. So I tell myself to assuage my fears that I may be one of those dreadful people mired in nostalgia.
Now watch this deer drinking: