Cyberpunk twin-stick psychostomp Ruiner is out now
Devolving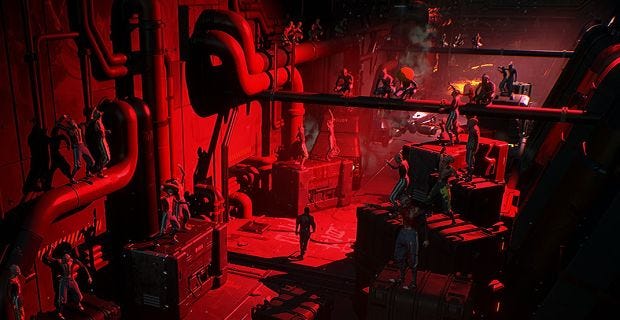 The blinking red light on my e-roomba tells me there's a message. Oh, it's about Ruiner [official site]. The cyberpunk twin-stick shootmans is out today, sporting its cool jackets and flashing facemasks. You play an angry fella going on a psychopathic rampage to get his brother back and take down a corporation that has everyone enslaved to VR, helped by a hacker sidekick who provides narrative voiceover as you flamethrow, hammer, and shotty your way through enemies. Hang on, the vid-cockroaches are forming into a screen. It must be a launch trailer.
Roaches, disperse. So yes, that looks like a cyberpunk world, for sure. John had a go at shooting his way through some brawls earlier this year and thought the Alien Breed style combat was fun but that its depiction of women was a little puerile, all of them bent over, boobs akimbo, although overall he didn't get a long enough demo to make any harder opinions than that.
Our pals at Eurogamer, however, have stronger opinions. Having blasted through more of the game, Edwin Evans-Thirlwell calls it a "profoundly ugly" game in terms of its themes, if not its art style. Let's find that sentence he uses... ah yes: "Ruiner is, in short, a moderately entertaining action game and an utterly hopeless portrait of entrenched misanthropy..." Phwoar, that's some line.
Anyway, it's on Steam and GOG for £14.99/€19.99/$19.99.
Disclosure: our own Alec Meer did some script-editing for early versions of Ruiner.