Run, Rabbi: Shivah For Free Today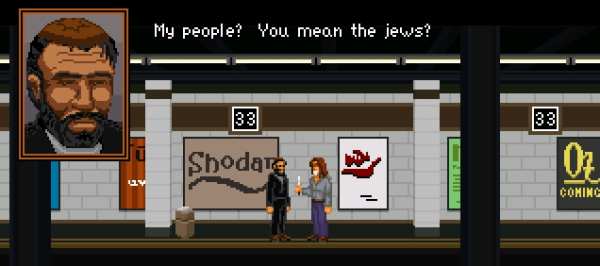 Walking-gaming-polymath Richard Cobbett brought this to my attention. Wadjet Eye Games' Dave Gilbert has decided to celebrate the Jewish holiday of Yom Kippur by making their Shivah free to download today. All you need to do is go to the buy page and enter the coupon code "FreeShivah". And lo! A game will be yours. Why should you do this? "Put simply, if you're into adventures or games that tell stories, Dave Gilbert is one of the guys you should be watching," says Richard, before pausing to allow us to put a page-break in.

"His games are very familiar in style, especially if you're a registered member of the great Point And Clique, but his characters and the quality of his writing utterly blow away almost every commercial attempt of the last few years. The basic concept of The Shivah says it all, chucking out the usual mildly sarcastic pretenders to the Threepwood throne in favour of making a rabbi on the brink of losing his faith the main character of a murder mystery adventure you definitely don't have to be religious to enjoy. It's a short, bite-sized game, but the perfect introduction to Gilbert's style, which would later be honed into the fantastic Blackwell Legacy games. Download it while it's on offer, and definitely check those out as well. Wait, did I actually get through that without getting his name wrong even once? Hurrah! Achievement unlocked!"
"I'm still petitioning for him to change his name. I've never called him Ron Gilbert, but I have called him Dave Grossman a couple of times and had Telltale people mail me to say "Uh..."
Well, you heard. To repeat, you basically go here and enter the coupon code "FreeShivah". And if you're coming to this page after the offer has been expired, you should be aware there's a free demo for you to try out in case you fancy purchasing the feller.