S.EXE: Girlvania Summer Lust (NSFW)
Rock, Paper, Scissoring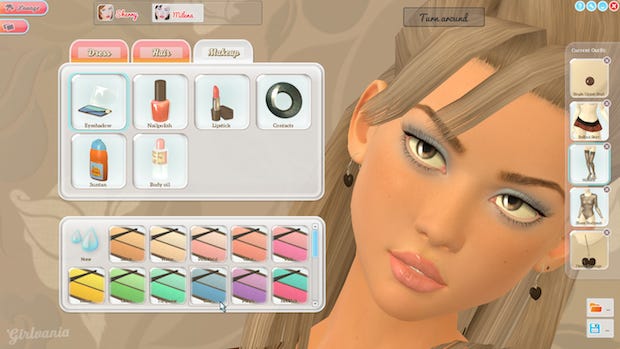 Someone sent me this 'All-Girl Sex Simulation' Girlvania because I guess I have this reputation now. What I did was I got some All Girls together (women who have sex with other women) in the New York Museum of Sex bar, plied them with alcohol, and asked them to look at the game. Is this a thing you can count as your job? I guess this is my job now. Asking New York lesbians what they think of virtual women fucking each other over outlandishly named cocktails. Anyway this is not going to be safe for work (in text or images) and prepare yourself for Jeff Goldblum sweats.
The Museum of Sex bar in New York is very dark and plays a lot of Drake. [Looks pointedly at the camera.] We gather around the laptop in the booth and put our fingers rather sensually on the trackpad.
Girlvania: Summer Lust is a game about doing sex acts to ladies with a sort of disembodied ghost hand, which is quite creepy in itself. It has a rudimentary system of 'testing' you as a player: you move the mouse up and down but not TOO much - if you go over a line indicated that is TOO INTENSE for the woman and you have to try again. The women are of similar pubeless body shapes and seem generally without personality, apart from you can customise their looks. There are 'education' levels you have to get past to get to scenes where there is more than one woman to look at.
The game is a little jerky and is pretty difficult to control, and the in-game women stare a little unsettlingly back at you as if you're doing something wrong. The first thing we do when we start the game is the 'human bra' where you are supposed to cup boobs to make the girl moan. 'The human bra' move is a thing that boys thought was sexy in secondary school and made me sad. The women around me seem to agree that this is also not particularly sexily done in this game.
Perhaps this All-Girl thing is actually a first-person teen boy wet-dream sim.
Mindful of the kind of person this game is aimed at, I ask the women who have sex with other women, "What do you think of mainstream porn? The kind that has 'lesbians' in it, you know, straight man porn?"
Whitney pipes up "Most of it makes me want to puke", but Lacy asks that I clarify whether I mean amateur porn or not. We quickly slide into talking about feminist porn, which is made by women for other women (I am mostly familiar with Erika Lust's work, and I say I really want that to be her real name, but Lacy yells 'IT IS A HUNDRED PER CENT NOT HER REAL NAME').
Feminist porn tends to focus on many different things: it gives a better overview of bodies, focuses on both bodies equally, close ups are tempered with wide shots, faces are important, and often the couples have actually requested to sleep with each other because they are attracted to each other. You tend to get people in feminist porn who are interested in fucking each other for the sheer pleasure of it, rather than as just a job. Feminist porn is also a lot less obsessed with genitals. I ask the ladies assembled why they think all of this is.
Sam says she thinks it's because women are treated as 'vessels' in mainstream porn, things that are for 'putting stuff in' and 'doing stuff to'. Feminist porn is a lot more interested in mutual pleasure.
"Do men focus on the penetrative act too much do you think?"
"I feel like that's the only thing they're good at," Lacy says.
"I feel like that's what's beaten into their brain that that is what sex is," Sam says.
"In the game there is scissoring," Whitney begins.
"WHAT LESBIAN DOES THAT," Lacy bursts out.
"There's a remark in the game that says 'I love tribbin'," Whitney says. "It's like in order to have sex you have to have genitals together."
"That's a fabrication - that vagina on vagina is supposed to be sex. That doesn't make sense," Emily says.
"How often do you scissor your partner?" I ask the assembled sex-havers.
"NEVER."
"Nobody even looked around," Lacy laughs. "It's like 'hey what everybody else gonna say??'"
"I knew Cara was going to ask that," Whitney said. "I knew everyone was going to go NO."
"I tried it once and it was a problem," Emily says.
[Incomprehensible noises of outrage related to scissoring]
As a person who is lazy in bed I say, "Scissoring looks like a lot of effort for very little return."
"Your legs don't bend that way!" Emily says.
"It's quite a position to get into, but there's definitely some sort of arousal from it," Sam says. "It probably will not lead to an orgasm, if that's your 'end goal'. There's more to be said for friction than probably gets credit. But as the quintessential lesbian sex act that is complete and utter bullshit. Without a doubt."
"It stems from a male point of view: what's better than one vagina?" Emily says.
"TWO VAGINAS," says Lacy.
"So this game is a lot about mechanically inserting and removing things from women," I say.
"There is not nearly enough lube in it," Sam says.
"There's not enough feedback," Emily says.
"There needs to be a rumble pak," Whitney says. "It's either OUCH or... Good!"
I think a little bit about how Ouch or Good really sums up a lot of video games.
"You know I've spent a little time with that FPS Call of Duty: Advanced Warfare or whatever it is recently," I say, "and I really liked it. And I noticed that they spent a really long time getting the feel of the body correct. It feels like it has weight. You feel like a large guy, with shoulders, you feel like you are bearing a heavy pack, when you move it feels like your feet are beating the ground, that you have momentum. You feel like a soldier. When you press forward on the joystick you feel like you are bearing a weight. The game has friction. Why on earth would a game that is about sex have none of that?"
Part of me wonders if I am thinking weirdly erotically about Call of Duty, but perhaps it is just because we are talking a lot about sex and I'm thinking about gruff dudes.
"Have you seen Robert Yang's latest Vine?" Whitney says.
"No," I say.
Oh my god.
It is a dude spanking game with Leap Motion. I am really quite excited about it.
"What about Rez with the vibrator? Wasn't that just like a bona fide sex game?" Lacy says.
"I had the trance vibrator," Whitney says. "You would never get anywhere with it. It's like sitting on a subwoofer."
"I feel like oral sex is not enough of this game," I say.
"Yeah oral sex and anything that isn't putting stuff into women," Emily says.
Lacy grins, "Yeah like you wanna huuuug." Everyone laughs.
"What percentage of your sex lives revolve around cuddling mechanics," I say, feeling like I work for IGN. I put my frownface on. Investigative reporting.
"OH CARA ELLISON!" Lacy exclaims. "What percentage of YOUR relationship is cuddling?!"
(None per cent. CRIES.)
"Like 99% and 1% scissoring," Whitney says.
"I just get the guy and take him home and then I'm done in fifteen minutes and I've put him to sleep and I'm annoyed we can't do it again," I say. "I approach all things like a man and I get annoyed we can't do it all night because he is asleep." Sleeping is rubbish.
"You are a unicorn," Lacy says. I am, and am currently feeling what it is like to have queer women look at you with the demeanour of velociraptors that just saw a sheep. I feel pretty good about it.
"Let's talk about when the oral sex happens in this game," I say. "Is it satisfactory?"
"Well there's oral that happens in the third level," Whitney says. "There's one girl on all fours being fucked with a strap on from behind, and one girl is facing away and she's got her ass in the other girl's face and is being eaten out. All these positions - that is not really the experience of me or anyone I know. Usually a lady is just gonna be on her back because that's a comfortable position. That's why it's for a male audience. For me I can't relate to this at all. All I can think is 'You're both so uncomfortable, how can you even get off?'"
"I give this game points for putting in a lady of colour," Lacy says.
"She gets a nice hairstyle later too, and I really like it," Whitney says.
"It's just fingers and objects in this game," Lacy says. "If it isn't objects it's her jamming her weirdly long pinky in her asshole. What do you call a lesbian with long fingernails? Single."
"There's hardly any fisting in this game," Lacy says. "Fisting should be a national... an all encompassing thing."
[There is some discussion of fisting techniques I find difficult to put into words.]
"Have you ever used a carrot in coitus?" I ask the assembled women. "This game seems to think that's a thing." I point to the woman with a carrot in her ass.
"I missed that level."
"The game is mostly focused on phallic objects," Sam says. "Not all vibrators are the same shape guys..."
"There's no variation in where you can touch. Up and down back and forth... Those can get you places, but there are other options."
"It scares me a little that there's no variation in... how fast you... put it in and out... Because that's an important factor..." I say.
"It does say OUCH," Whitney says.
"It says ouch then TRY AGAIN," Sam says. "Maybe let's take a break."
"The promotional material seems to emphasise that this game is about consent, but I actually haven't seen any issues of consent broached in this game," I say. "There's been no explicit boundaries discussed as far as I can see in the game."
"Which would maybe make it more sexy," Vianey says. "It would actually make a really really good tutorial."
"Now you talkin' about GAME DESIGN ladies," I say. "A fucking tutorial. Why did they not do that???"
"Why didn't they do that? 'Fuck me harder', 'move here', dirty talk - that is sexy. Why didn't they do that?" Emily says.
"''Please do this or 'try this'" Vianey says.
"Begging. Begging is awesome," Emily says.
"Sometimes," Whitney says, "the girls in the game do say 'Fuck my ass'."
------
Later Katherine Cross would take a little time to think about the game, and email me her thoughts:
"The game is hamstrung, I think, by its clear desire to provide visual stimulation to the player, which is entirely at crosspurposes with being a sex simulator. An as yet underexplored area of gameplay is how to actually simulate the feeling of being involved in sex rather than the mere voyeurism of watching someone acting for the sake of an audience, a long tradition that Girlvania continues. Real sex can be visually unappealing from the outside, but the phenomenology of the experience for the actual participants is incredible. Hence, what makes sex actually fun for lesbians gets short shrift in Girlvania, but the visual motifs of, say, sucking on a lollipop are tremendously prominent in the game.
It's a porn game but it's not really for women, much less lesbians. At the risk of revealing a bit too much, the game made me blush, but it was not a turn on in the least."