S.EXE: Hot Mods (NSFW)
Schlongs of Skyrim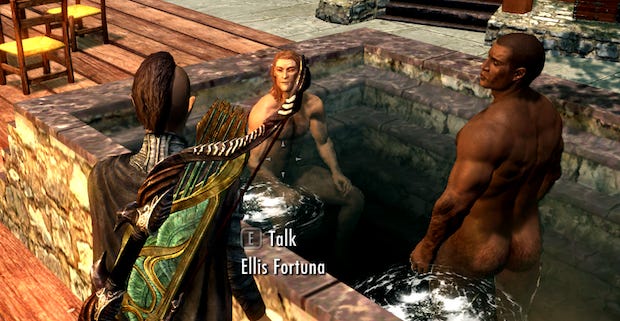 This week I have been inspired in my work for this column by the magnificent website Critique My Dick Pic, which attempts to rate the erotic quality of dick pics with 100% no size shaming. I enjoy that website because for some reason dicks, especially erect dicks, are conspicuously absent from our media, including videogames, and I think a good dick pic can certainly be arousing to look at.
Probably most interesting about the site is that the curator, moscaddie, suggests that for maximum sexiness the person possessing said dick holds it or at least caresses it a little for the picture, which gives the dick a less… well, melancholy feel like it's the loneliest snake in the world (she calls these 'log' pictures). Perhaps it gives the picture a sense of movement or purpose. Surely with the help of the best animators in the world, games would be the best place to give a dick a little something to do. Or at least get them to cast a cute shadow over exotic environmental art.
So anyway, in the interest of New Schlong Journalism me and a friend downloaded Schlongs of Skyrim, a mod for Skyrim which frankly just makes large fat growable schlongs available on male NPCs. We also made use of the mod 'Bathing Beefcake Luxury Suite', a mod inserting a Skyrim beefcake spa near Whiterun, to make it easier to view tadgers with ease.
Re: RPS policy on this I suddenly panicked about the amount of dongs that would be visible in the screenshots.
hello graham
i am having another problem with dongs
in that
i have downloaded Schlongs of Skyrim
and all the pictures are very graphic
so
You can choose from three different types of schlong in the settings page (as if those types were the only types), 'average' (which I think in the illustration pic moscaddie would go for: it's black and white and sorta arty-lookin'), 'regular' (in which the penis is shown erect - hurray) and 'muscular' (which made the erection in the picture have a more pronounced bulk near the base of the shaft). In the end I went with 'regular', although I don't really know what that says about me. Perhaps I am just terrified by dongs that are either big or sad. I don't know. Perhaps I am just an advocate for all those dicks who fear that they are regular, but with attention and care, they can become heroes.
A pop up loads: "Outfits and armour successfully schlongified'. Great.
I used my friend Alice's Skyrim account to install schlong mods on it (ha!), so her character, a tall, thin, sinewy woman with a punk haircut enters the Luxury Suite near Whiterun. She steps into the spa pools of the hut, which resembles a Norwegian spa I once felt uncomfortable in. Beefcake men are sunning themselves on the patio with expressions like burly plumbers who have been asked a perplexing maths question. With her cloak on, Alice's character looks a lot like a kind of shady schlong investigator, a sort of meat spear ombudsman, or perhaps someone who is on the Board of Dick Certification (yuuuup, that's a dick, etc). Anyway, to blend in with the herd of dudes with their shirts off, our character gets entirely naked, as one would.
They do not seem interested in us. This is good. We are undercover.
To see Full Schlong, one must entice the beefcake carefully into or near the water. What then happens is their trousers pop off, then their underwear appears, and then half a second later a giant schlong will flibble out. The dicks are fully physics enabled! There's proper flibble and everything! A flibble AND wibble! On a scale of flibble from 0 to Flibble Flopple I would say Flibble and Flopple and Flopple Flibs. They seem to also have quite a bit of pendulus weight to them, so this mod maker obviously spent a lot of time fine-tuning these curious dongs.
You can engage beefcakes in conversation, and tell them that you 'have trouble controlling yourself when they are naked', which immediately results with them whipping their clothes off and the flibble happening again.
We decided to make the journey to Riverwood's most prestigious outlet of boner potions, a shop called 'Morning Wood', to buy an assortment of things to give the inhabitants of Luxury Suite. We ran all the way there entirely naked because in our excitement we forgot to put any clothes on. The shopkeeper, one Bjorn Longsword, commented that we should probably feel a bit chilly. We bought everything Bjorn had to offer; most concocktions claimed to have schlong size greatly increase after imbibement.
Running back through the doors of Luxury Suite with the day's phallus tinctures, we were all set to get out on the sunny patio and begin commanding dicks resize like something out of porn Fantasia, when a blood dragon flew over to the patio and blasted us with fire.
RUINING our idyllic dickfield of docile floppy beefcakes, disrupting our dong assessments, and scattering the subjects' dongles flibbling. Running towards it with a bow we shouted 'GET AWAY FROM THE BEEFCAKES!' quite angrily as the beefcakes panicked and scattered, and we shot the dragon to death. Happily, it gave us an item called Essence of the Dragon, which magically increases the size of someone's bits.
We spent the next half hour enticing the beefcakes back into the house and plying them with potions that made their junk size suddenly increase like angry sea cucumbers, or pressing page up or page down to make the dongs erect or not erect, which I guess is one of the benefits of being in a world with potent magicks. One guy went into stealth mode with a massive erection and started following us around the house in a squat position that looked increasingly as painful as it did humorous.
We tried our 'hand' at a dick pic, but the lighting was too stark, the dick wasn't erect, and frankly our character looked disinterested. I think it was overexposure to cocks that put her off.
All in all, Schlongs of Skyrim was less arousing than just putting on a remix of Jeff Goldblum's laugh from Jurassic Park.
Well, most things are less arousing than that, to be fair.
Alice stated after reading this, 'That's good and terrifying and I'm sorry I had a part in it.'
Here is me and Alice playing Naked Dark Souls and debating whether the thrill of a naked patch is the promise of sexiness, or whether it is really just the transgression of taboos itself that is the point of a naked patch.

Watch live video from asponge on TwitchTV
Good day, S.EXE lovers. See you next fortnight.