S.EXE: Tale of Tales' FATALE (NSFW)
You've Got The Look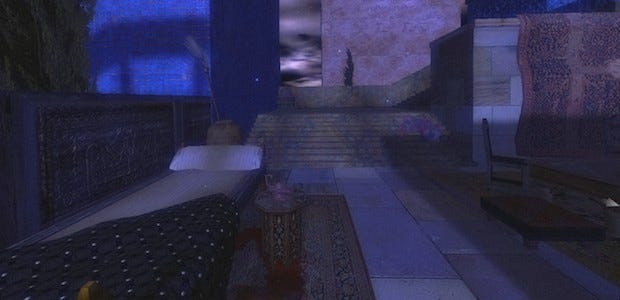 Shakespeare's Helena once said 'Love don't cost a thing'... Hang on, that wasn't it.
She said, 'Love in an elevator, living it up when you're going down...' No, that can't be right. That is somewhat anachronistic.
No, it was 'Love looks not with the eyes but with the mind. And therefore is winged Cupid painted blind.'
But what about desire? What about lust? Isn't lust directed by sight? By the act of looking? Can looking be... dangerous? When someone looks at you in a certain way, is that your power, or theirs? When you behold something, can it manipulate you? Maybe Cupid can't tell us about that. But the Tale of Tales game FATALE is going to show you.
The 2009 game Fatale by Tale of Tales is a reimagining of Oscar Wilde's 1891 scandalous theatrical endeavour, Salomé. Wilde, besides being so very droll and the subject of a Smiths song about cemeteries, was a master of articulating desire, aesthetics, restrained hunger; A master of painting worlds in blood-red and gold. If you know the Salomé I know, it is a text so intoxicating and so violent, and so filled with stymied sex creatures, bottled up nerve, distilled desire, it is hardly for the faint-hearted. Fatale has Salomé's opulence, yet it is a deliberately languid, obtuse but profound thing of 3D environmental beauty, something that interprets Salomé's discourses on sex as the clash of slow-fed text, audio, environment, and the languorous inputs that force the player to take their time.
In Oscar Wilde's era, everything was about making sexuality visible and quantifiable in ways that could be compartmentalised and controlled (and it's really dug it's heels in). By transforming desire into discourse, the act of confession now had power over sex. In fact, actually talking about sex was more of a power play (and possibly more satisfying) than actually getting off. The annoyingly useful (for a French philosophiser) Michel Foucault once wrote in the introduction to his The History of Sexuality that Victorian sexuality wasn't about repression per se, but a reframing of discourse around sexuality so that we essentially started making sex more discussed - but only in certain ways. The discourse began to work by pointing out what were perversions (perverts belonged in a mental institution) and what should happen in the home (awkward 'oh i say Margaret!' English sex with your spouse). As Foucault also touches on, things became about surveillance, because to forbid something, you must first notice it.
Everything immediately became more sexualised, because everyone was more aware they could be persecuted for it. Everyone was watching for the look. That's what the play, Salomé, and the game, FATALE, are about.
To give you a loose idea of the story of Wilde's play: it is set in the time of King Herod, and takes place on the terrace of Herod's palace, where he is in attendance. The beautiful, bejewelled, somewhat half-naked Salomé is Herod's stepdaughter, and has caught the eye of a Young Syrian, but she's down to kick it with the mysterious prophet Iokanaan, who is imprisoned in a cistern (not the sort you are imagining, think Tomb Raider). Herod pervs on his stepdaughter a lot and is creeping her out. The prophet prophecies doom (what else do they do?) and emerges from the cistern. Teenage Salomé immediately lusts after him, 'amorous of his body'. The Syrian kills himself because of this, because he is in love with Salomé, but Iokanaan refuses to look at Salomé. Herod asks Salomé to dance and he will reward her: she does so, and asks for Iokanaan's execution. Iokanaan's head brought to her on a plate, Salomé pretty much makes out with it. Herod is disgusted, orders all the torches extinguished, and Salomé beaten to death.
EROTIC! BLOODY! INCESTUOUS! A VIRGIN GIRL MAKES OUT WITH A SEVERED HEAD! Oh Oscar, you bring all the boys (and girls) to the yard.
And so to the game's interpretation. Fatale is played first person to maximise the player's gaze, that so-called 'look'. In the first segment of this exploration game your character wanders the cistern environment. The intention is to have you play the part of the prophet Iokanaan, who in the play is 1) the hottest damned holy man Salomé ever saw, and 2) refuses to give in to Salomé's lustful calls.
As you wander the cistern (it is small, and dark, with limpid pools and stacked boxes) fragments of dialogue from the play appear, ghastly before you. When one appears, a small flag will appear at the bottom of your screen, indicating that you must find and read more to fill the bar. This actually creates a performance of your walking; you begin not only searching for these texts in the cistern, but pacing, slowly, like a beast caged. The control method is deliberately obtuse and slow, you left click to walk forward and angle to turn, right click to walk backward, and so you end up walking in long, slow circles, instead of the usual stop/start/manoeuvre. In the beginning you feel clumsy, but as each text is found and read, you can hear a crowd begin to gather outside the cistern, seductive music starts...
A beautiful woman appears dancing at the grate above you. Salomé. And you are looking at her. And you are reading her words. You can feel the violence of the prose on your mind. There's something about the starkness of the words, Salomé's pleading with you for your body, the tenseness created by your pacing, the seductive music from outside, and finally, the slowness of your own movement. It's seducing you with its discourse. She is looking at you. She's got the look.
The second segment is about Salomé. You are let into the courtyard, not, this time, to play a specific character, but as the gaze itself, left to drift through the exotic piece of Wildean Orientalism created by Tale of Tales. Your task is to do as the servants are ordered at the end of the play: to put out all of the torches, so that Herod cannot look upon anything, nothing can look upon him, and Salomé especially. Movement is like swimming awkwardly through humid air: you click once to propel yourself slowly, drifting. It is awkward and, again, deliberately slow.
As you click on a flame, a gold frame appears around your cursor, rushing past text and seductive whispers in your ears of Wilde's words. As you find each flame, you hover your cursor over it, until darkness appears, and then you extinguish the flames, each providing a tableaux from Salomé.
The words are what become, finally, the infiltrator to your eroticism switch. Occasionally, you can feel your face get a bit hot. Oscar Wilde isn't in the big hitters for nothing. Again, through your eyes, Tale of Tales have seduced you with the purple-hued skies, the naked breasts of Salomé, the white moon, and yes, the raw thrill of reading words crafted to scandalise.
At the end, Salomé does the dance of the Seven Veils for you, as you watch. Of course you've got the look. She's got the look.
Tale of Tales' Auriea Harvey did a barnstormer of a talk at Indiecade East recently. She's all kinds of wonderful. And it, too, is about love, sex, and videogames. And you should also take a look at Luxuria Superbia.