Online sim Sailaway sounds an interesting Tamayachtchi
Sail the ocean blue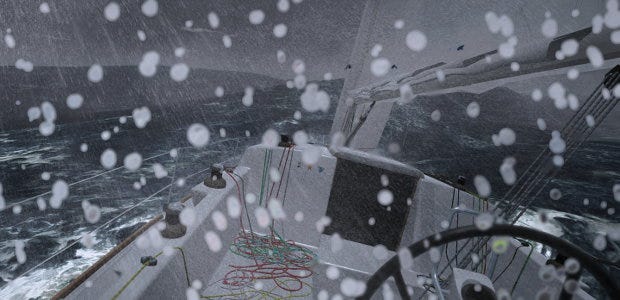 I'm fascinated by the idea of OrbCreation's online sailing sim Sailaway [official site], traversing life-size oceans on voyages which continue in real time even when you turn your computer off. The game's weather will change following real meteorological data too, and apparently the game can e-mail you updates on your progress so you can hop aboard to make corrections. All of which makes it sound both a sailing simulator and a virtual pet. A Tamayachtchi.
The basics: Sailaway is an online-only sailing sim set in a persistent world. Players sail the oceans of the world in real time, at real speeds, whether they're playing or not. The simulation is meant to be quite serious, based on a combination of historical and updating data, but it will have several difficulty settings to help out casual sailors. And along with free-roaming open-world sailing, it'll have challenges and player-created races.
It has multiplayer, obviously, from sailing alongside folks to crewing the same ship. Perhaps it would be handy to have a few friends help babysit my boat because, as the devs say:
"In Sailaway, the oceans of the planet have been recreated with unparalleled accuracy; making a trip across the Pacific take months, just as it would on a real boat. With a persistent online world, adjust your settings and your boat will continue to sail even if you aren't online. Receive updates via email as your boat continues its progress, but don't forget to check in often – with real-time weather data pulled from the National Oceanic and Atmospheric Administration (NOAA) conditions can change in just a few hours."
Go on, just nip online and trim my boatbaby's mainsail, won't you?
Sailway is due to hit Steam Early Access for Windows and Mac in April, priced at £29.99/36,99€/$39.99. It's expected to be in early access for six months while the devs gather feedback and add more boats, more tutorials, more events, and more challenges while improving the world detail and ocean heightmap data.
Oh, and of course: