Sailaway casts off from early access shores
Sail-acious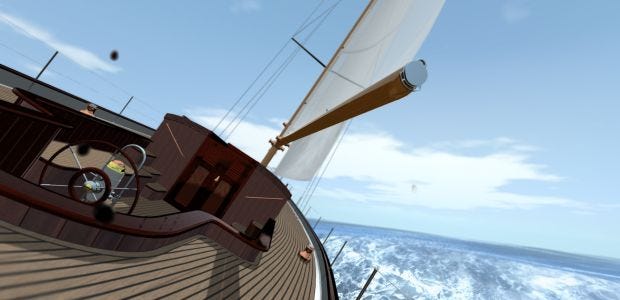 Hoist up the kedge to lee side! Pack down the puddening, or do you want to see this mulie over-canvassed? Crank that highfield lever or I'll bimmy you bloody!
Sorry, I'm getting a bit carried away: I haven't got a clue how sailing works, but I do have access to an online glossary of nautical terms. Also, Enya.
Sailing sim Sailaway has braved the early access tempest and emerged into the calm ocean waters of... being properly out. It aims to recreate every jib and jibboom (a spar used to extend the bowsprit, come on keep up) from physical sailing, as well as every ocean on God's blue Earth. Get ready to get your feet wet.
The 1.0 update has shipped in improved terrain textures, alongside new landmarks like the Statue of Liberty, the Golden Gate Bridge and the Sydney Opera House. More of those will be added "as suitable models become available", and they've also plugged in data from OpenStreetMap so the more popular coastlines are now populated by buildings. Development will continue, say the devs.
Sailaway is an online only game, but that's nothing to do with pointless DRM. It pulls weather data from the National Oceanic and Atmospheric Administration to reflect real-world conditions, which is a neat trick. You can also leave your boat sailing and get updated on its progress - which you may well want to do, seeing as every voyage takes as long as it would over actual waters.
I'm not saying this will happen, but if I ever did fancy learning how to sail then Sailaway seems like an impressive tool to help with that. As well as the weather, it also simulates winds and currents using historical data, and you can even navigate using the stars so long as clouds aren't blocking the way.
Last year, Brendan took to the seas in a diary series where he attempted to navigate the Northwest Passage. You might think that would be a pleasant, relaxing endeavour. You'd be wrong.
"WHO COULD HAVE PREDICTED THAT WE WOULD NOT BE FINE? TIPPERS. TRIM THAT JIB SHEET. GET THE REEFS UP NOW. GOOGLE, I NEED THAT COURSE ADJUSTMENT. DAMMIT WHERE'S DOT-COM THE CABIN BOY? HE WAS SUPPOSED TO WARN US ABOUT THIS. WHAT? WHAAAT? BUT HE'S ALWAYS BEEN A CABIN BOY. GIVE ME THE HELM YOU FOOLS WE'VE GOT MORE HEEL THAN A CATWALK MODEL. HOLY GOD AND ALL HIS SAINTS PRESERVE US THROUGH THIS TEMPEST. EXCEPT SAINT LAWRENCE, OF COURSE. HE CAN DO ONE. BUT YES MAY THE FIERCE WIND ABATE OH LORD. MAY YOUR WISDOM SEE US THROUGH THIS STORM AND MAY WINDY-DOT-COM BE FOREVER CURSED TO THE LOWEST OF HELLS FOR HIS IGNORANCE AND SHORT-SIGHTEDNESS. MAY HIS– OH NO, HOLD ON BOYS, HERE COMES ANOTHER BIG ONE.

OHHHHH SHHHHHHHHH–"
That was actually the last we ever saw of Brendan. All his articles since have been written by ghosts.
Sailaway is out now on Steam for £30/€37/$40.