Saints Row 2 is free on GOG right now
Saints Row a go-go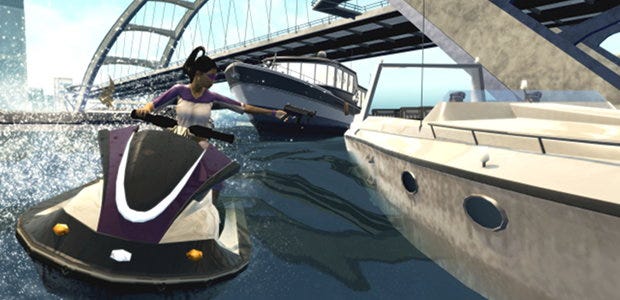 It's Saints Row a go-go round GOG today as the store celebrates more of Volition's wacky open-world crime 'em ups arriving DRM-free on its virtual shelves. Some Saints games have been on GOG for ages but now the lineup is complete with the addition of Saints Row 4 (the one where you're the President of the USA) and Gat out of Hell (the one in Hell). To mark this Saint-o-rama, Saints Row 2 (possibly still my favourite Saints Row) is free for 48 hours. And folks who own Saints Row games on Steam can add them to their GOG account to get DRM-free versions. GOG are holding a sale too.
To grab Saints Row 2 free, hit GOG's site and click the banner. You will need a GOG account for that but not any special software. Saints Row 2 is known as wonky on PC but most problems I had with it cleared up naturally as I upgraded PCs over the years. I do recommend the Gentlemen of the Row mod for the squillion things it adds.
The sale celebrating this Saintsfest has 75% (or thereabouts) off all the PC Saints Row games as well as a few others published by Deep Silver. £3.79 for the best superhero game, Saints Row 4, and its DLC is a right bargain.
The progression of Saints Row is curious. I'd say 2 is my favourite Saints Row game because sometimes I simply want to do silly crimes and drive around a big open world as a comic book gang boss with a genuine vicious streak. Saints Row 3 doesn't sit right with me because it awkwardly has one foot in that past and another awkwardly trying to step in a bucket of custard and get stuck so it can stomp and slosh around like a big fool. Then Saints Row 4 is about the President of the United States jacking into The Matrix to take down an alien overlord who's destroyed the Earth and yes, it fully embraces that silliness. It's not really Saints Row but is the best superhero game.
To get your Steamy Saints GOGged up, swing on by GOG Connect and follow the instructions there. You'll still keep 'em on Steam but also have the option to download DRM-free versions on GOG. You've only got a week to do this, as the option will vanish on Thursday, April 27th at 11am. Chop chop!