'Positive Female Characters' Is The New Sarkeesian Series
Sword & Sworcery EP up first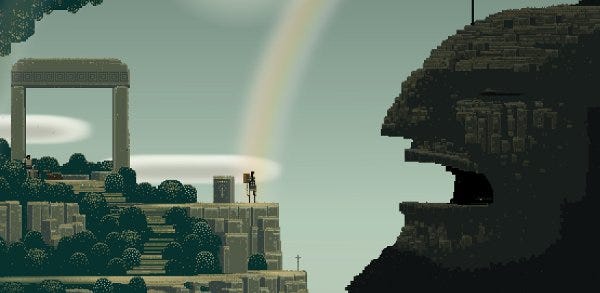 Previously, pop culture critic Anita Sarkeesian's videos have focused on how problematic many games' depiction of women characters can be, but a new companion series looks at the other side of the coin. The seven-minute first video in Positive Female Characters focuses on the wonderful, strange Superbrothers: Sword & Sworcery EP [our review] and its stoic protagonist The Scythian.

The gentle, enthusiastic video examines how The Scythian, whose gender the game never makes a big deal out of and never resorts to stereotypical visual imagery for, doesn't just "exist as somebody's sister or wife or daughter, but rather she existed as an individual, and as a hero." On top of that, S&S subverts genre expectations in terms of its protagonist's journey, resisting the intrinsic power fantasy which tends to underpin the vast majority of ostensibly similar adventures.
Here it is. Please be warned that this video contains ending spoilers at about the halfway point - it does clearly warn when that's about to happen, however.
What an excellent soundtrack that game has too. I even have it on vinyl, slovenly nerdy quasi-hipster that I am.
If you can't or would prefer not to watch video, a full transcript is available here.
As you may notice in the intro/outro segments, we can likely expect to see Beyond Good & Evil, Portal and Mirror's Edge in upcoming videos.