Screenshot Saturday Sundays: pretty pairs
From strange cities to fantastical flora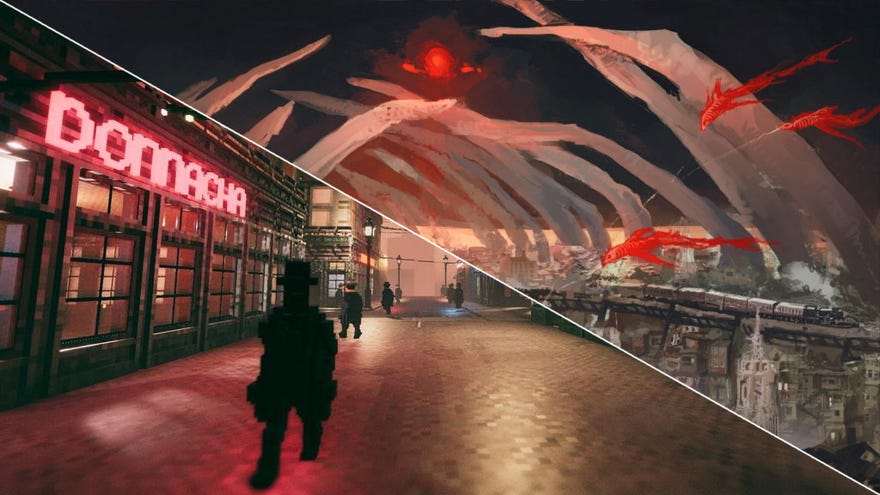 Hallo! Jay is away this weekend but I enjoy her Screenshot Saturday Sundays so much that I still wanted to look at work-in-progress snaps (and GIFs and videos these days) from games. I've rummaged through this week's #screenshotsaturday Twitter tag and returned with complimentary and contrasting pairings for your pleasure. Come, look/watch.
We start with two very different cities.
3D mixed with 2D, and 3D made to look 2D with a low-framerate character.
After seeing Godzilla: King of the Monsters last night, I crave big beasties.
Fantastical flora.
Handmade treats.
A heck of a pair of menu screens.
Iffy dishes.
A dark crowd, a devout crowd.
Two classic sayings. But if laser pointers work for herding actual cats, does it also work with the idiomatic sense?
Two stops on your next cursed road trip.
Blocking out the composition and lighting for my new scene #screenshotsaturday pic.twitter.com/pbmMcNqRy1

— Alex Beddows™ (@BeddowsDesign) June 1, 2019
Closeups.
This dither has me all a-tither.
June is the official month of watching sunsets.
We end on two of the same game because rules are made to be broken and god damn, look at this.